SHALOM!  SHALOM!  PEACE MY BROTHERS AND SISTERS!  PEACE FROM ABOVE!
REQUIRED READING ON THIS SITE!    "THE SECRETED CITY PROPHECIES" .. "EARLY CHURCH ORIGIN AND FORGOTTEN MUTUAL EXPECTATION" and "TRIBULATION 70-365AD"   … FOR STARTERS!    (Updated  8/03/22  8:51PM)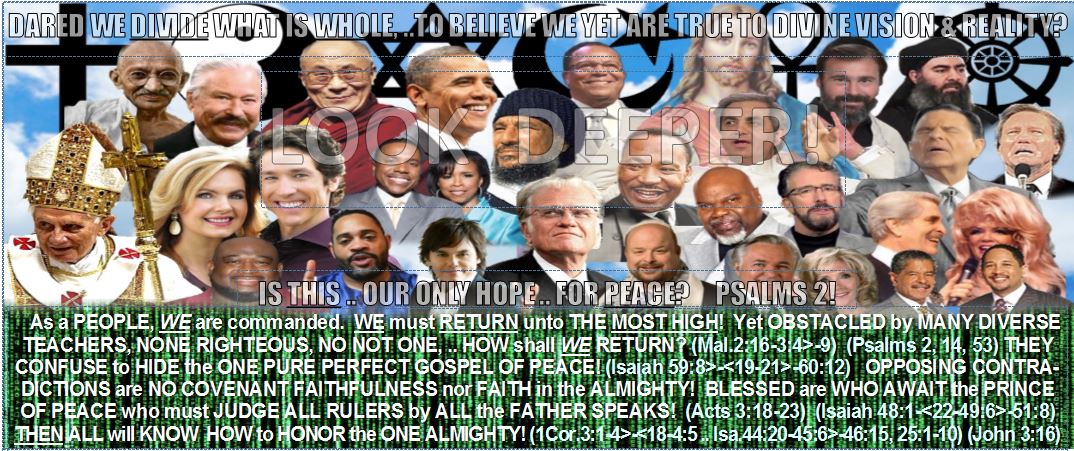 NOTE WHAT THE MESSIAH effectively SAID, "IF you allow any man to deceive you to deny even the least of the LAW and the PROPHETS, you shall in NO CASE enter the Kingdom of YAH!"     And "IF any man DECEIVES his brother to deny any part of the LAW and the PROPHETS, that man is GUILTY unto HELL'S FIRE!" (Mat.5:14-25)
THIS IS THE ARTICLE PROMISED IN THE EPISODE OF MY BLOGTALKRADIO SHOW at   http://tobr.com/s/8180649. #BlogTalkradio   .. "MESSIAH GAVE HIS LIFE THAT ALL MUST BE CONVERTER TO HEED HIS WHOLE GOSPEL .. OF PEACE"

You may of course search through the archives for many more shows of exceeding enlightement at    www.blogtalkradio.com/edy1        Hallelu'YAH!

It is written at ISAIAH 59:8-<19-21>-60:12 and ISAIAH 41:21-42:4,  PSALMS 14 and PSALMS 53 that humanity having made for itself CROOKED PATHS has NOT in these latter days known the WAY OF SALVATION PEACE!      BLESSED are they who will be found HUMBLE to SEEK and AWAIT Him who YAH has chosen to REVEAL again HIS RIGHTEOUSNESS! (Isaiah 56:1-8>-<9-57:14)    Because your RULERS WILL NOT!
WORDS HERE FOR BUT THE MOST HUMBLY DILIGENT SOUL!
In this very late day and time, it is a SHAME that so many who say they are believers have not understood this. Trusting the status quo, the vast majority simply don't know the most precious truths contained in their bibles. They are just completely off-track. Consider Malachi 2:15-3:4, Malachi 4:2 and Isaiah 40:27-41:4, Psalms 2, 14, 53 … Zephaniah 2:15-3:6>-<8-13>-20, Isaiah 59:8-<19-21>-60:12, 48:1-<22-49:6>-<22-23>-<50:1-5>-<10-11>-51:8, 66:1-<6-15, 25:1-3>-10, concerning these latter days! Massive are the implications of these verses. And this trust me, is just for STARTERS! (Psalms 92:4-6, Isaiah 28:1-32:8)
By what POWER shall one be made truly RIGHTEOUS, WORTHILY true to ALL DIVINE WILL, denying NOTHING before YAH? By what NAME should they be called if made true untoo the MOST HIGH above ALL the RULERS and PASTORS of this EARTH? By what NAME shall a believing remnant find AT-ONE-MENT, ie. SALVATION beyond every pretentiously hypocritical worldly MISrepresentation that has damnedly divided the people?
At Isaiah 40:27-41:4 and Malachi 4:2 MESSIAH is called the RIGHTEOUS ONE like the ARISING SUN in the EAST.
Again at Malachi 2:17-3:4 relative to Isaiah 40:27-41:4 .. He is called, the "LORD who ye SEEK" and "Him for whom ye should be WAITING", .. as in "They who WAIT for the LORD shall RENEW their STRENGTH ie. ONENESS/ Faith. Discretion/ sense of Justice!"

Note that the Messiah is called by similar titles at Revelation 7:2, Luke 1:78 NASB and 2Peter/ Kepa 1:19-21 NASB ie. SUNRISE and MORNING STAR. ie. the "LIGHT that cast out ALL the DARKNESS/ CONFUSION .. the LIGHT the WHOLE WORLD would OBSCURE! .. that EXPOSES ALL who would keep the PEOPLES in DARKNESS! For in the INVARIANT LIGHT of the MOST HIGH there is PEACE!
Even at Revelation 6:12-<7:2>-17, as related at Zephaniah 2:15-3:6>-<8-13 .. they who are made true to the ANGEL/KING likened to the RISING/ SUN are called by the NAME OF THE FATHER/ LORD! These are they who OVERCOME ALL the MISrepresentations of the UNreasoning BEASTLY NATIONS, ie.CONFIRMED TRUE unto YAH in ALL THINGS that HE has decreed. They receive the SEAL ie. NAME of the LIVING YAH! These are they CONVERTED true unto ALL the MOST HIGH has commanded as the INVARIANT LIGHT of TRUTH unto a WAVERING WORLD! Consider DEUTERONOMY 32 which is called prophetically the SONG of MOSHE and in Revelation 15:1-5, the SONG of MOSHE and of the LAMB! See Isaiah 30:27-33 and Isaiah 25:1-3>-10, 26:7-13, 27:9-13! .. to warn the WORLD to be FAITHFUL! NOTE that REVELATION 6:12-7:2>-17!    REMEMBER WHO is the LAMB ie. the KING OF THE EAST! .. ie. SHILOH! (Genesis 49:1-<8-12) CONSIDER that "CR" means "LAMB" .. (Revelation 7, 14)
For ONLY the FULL RIGHTEOUSNESS of YAH is the PURE PERFECT WORD of the LORD of SALVATION, the GOSPEL WAY of KINGDOM PEACE!
Consider therefore MALACHI 3:18-<4:2>-6!   REMEMBER the LAW which YAH gave HIS servant MOSHE for all ISRAEL before comes the GREAT and AWESOME DAY of THE LORD! .. that shall JUDGE / EXPOSE the lawLESSNESS of ALL the RESISTANT NATIONS! CONSIDER ISAIAH 40:1-<27-41:4>-<21-42:4>-43:15, 11:1-4>-12, 48:1-49:6 .. John 14 .. (Gen.49:1-<8-12)
NOTE that ZEPHANIAH 2:15-3:6>-13 .. calls MESSIAH the RIGHTEOUS LORD!
Surely in being called by the NAME of His Father, the Savior is GodLY! ie. OF and LIKENED unto HIS FATHER. That is correct meaning of so much scripture. (Isaiah 44:20-45:6>-<19-45:6)
At ISAIAH 41 and Isaiah 44:20-45:6>-46:13, PSALMS 110, YAH has promised to SUBDUE ALL KINGS under the FEET of HIS RIGHTEOUS ONE, even the MESSIAH who is affectionately called "Lord". For ONLY the RIGHTEOUSNESS of YAH is the PURE PERFECT WORD of SALVATION PEACE!
Blessed are they who will be CONVERTED unto the PURE PERFECT WILL of the ONE .. beyond all the "MARKS" ie. FALLEN STANDARDS of the MANY UNREASONINGLY BEASTLY NATIONS! (Mat.28:18-20, Revelation 14:1-15:5, 6:12-7:17, 22:16) See also Isaiah 66:1-<6-15 again.
MASSIVE IMPLICATIONS IN WHAT IS REVEALED HERE! MORE THAN ENOUGH POWER TO COMPLETELY REVOLUTIONIZE THE WAY THAT 99.99999999999999999% OF THE MASSES PERCEIVE WHAT IS COMMONLY CALLED "THE FAITH". WHY? BECAUSE QUITE FRANKLY WHAT THE STATUS QUO HAS THOUGHT TO BE THE FAITH OF YAH, WAS NOT SO AT ALL!
A BIBLE IN A DEVIL'S AGENTS HANDS WHOSE FIRST PRIORITY IS HIS "PERSONAL PULPIT OR THRONE", CAN BLIND THE PEOPLE NOT TO SEE SO VERY MUCH; EVEN MAKE THE BOOK SEEM TO SAY SO MUCH THAT WAS NEVER DIVINE INTENT!   PRAY AND READ THE WHOLE BOOK! (Acts 3:18-23, Isaiah 34:16, Mat.5:14-25, 7:13-28)
Collaboratively taking into consideration  a CONSENSUS concerning ALL that is written by the LAW and the PROPHETS, ultimately speaking, RATIONALLY SPEAKING, there is NO DOUBT!   There is a by and large FORGOTTEN but AWESOME TRUTH POWERFUL toward RESTORING unto the CHILDREN TODY the HEART of OUR ANCIENT HEBREW FATHERS!    For surely, previous to the 70 A.D. FALL of JERUSALEM, there was a COMMON EXPECTATION that was surely the MUTUAL ORIENTATION among the descendants of the once MIGHTY PERSIAN EMPIRE of which JUDEA too was a SATRAPY!    We must understand according to ALL the indications of the SCRIPTURES, that the JEWS, the ZARATHUSTRI of the EAST, and they who BELIEVED in YESHUA as SAVIOR; all had in COMMON a PARTICULAR PREMISE!   THEY ALL surely regarded the ancient PERSIAN KING whom ISAIAH calls the "LORD'S ANOINTED SHEPHERD, who bore the title "RIGHTEOUS ONE", and "KING OF THE EAST" to be the AWAITED KURTI-SHAHSHANSHAH, the PROMISED AWAITED ONE, the SAVIOR, the KING OF KINGS .. MESHIKAH!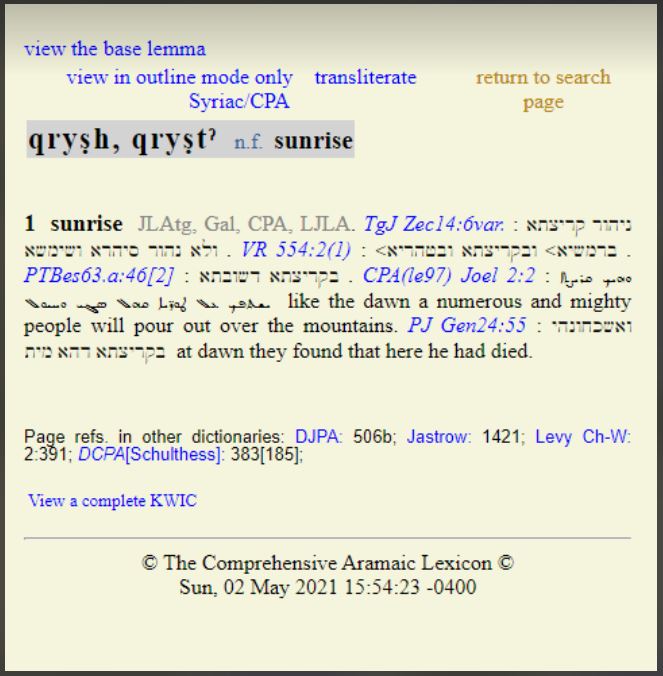 Googling the term "CYRTIANS", this is what we find …
https://en.wikipedia.org/wiki/Cyrtians
https://www.iranicaonline.org/articles/cyrtians-gk
https://dbpedia.org/page/Cyrtians
https://www.iranicaonline.org/articles/search/keywords:Cyrtians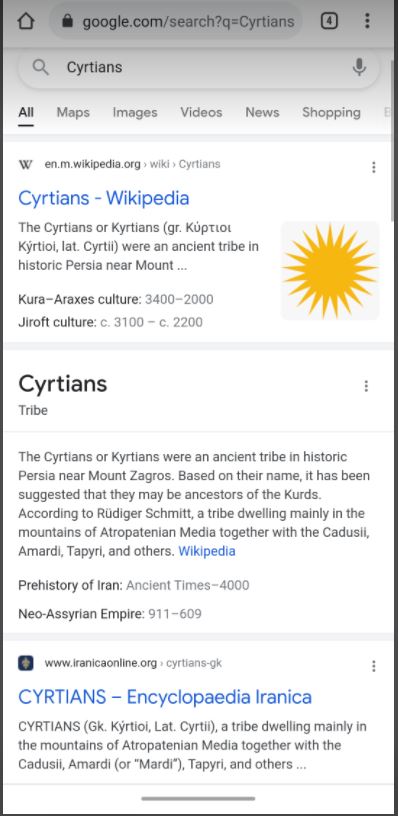 THE TIME IS COME TO EXAMINE WITH A WHOLE HEART ALL THAT OUR ANCIENT HEBREW FATHERS KNEW AND RECORDED!   WILL WE SEEK FOR ALL?   OR DARE TO BEAR THE CONSEQUENCES? (Isaiah 8:16-20>-9:8-16)
CONSIDER that ZACHARIAH, the father of YOHANAN the BAPTIST calls YESHUA as SON out of the HORN of DAVID, by the auspicious title SUNRISE! (Luke 1:68-<76-78, Psalm 132:1-<17-18)    Note that the VOICE CRYING in the WILDERNESS at ISAIAH 40 prophesies of the RIGHTEOUS ONE likened to  the SUDDEN RISING OF THE SUN at ISAIAH 41-42-43!   Note MATTIAH 12:18 and ISAIAH 41:21-42:1-4!    Consider that an earlier POST-EXILIC prophet ZECHARIAH prophesied of a FUTURE MESSIAH by a title rendered "TSEMACH" in the Hebrew, "DENKHA" in the Aramaic, and "ANATOLE" in Greek.   In every case this word carries the meaning both  BRANCH and SURNRISE!    Keep in mind that the ancient PERSIAN KING the KJVersion calls "CYRUS" bore in his day the title, KING OF THE EAST ie. SUNRISE or RISING OF THE SUN!    True to the PROPHECY, ithe EXPECTATION of the people and the WISE MEN who came from the EAST shortly after the BIRTH of YESHUA, that the KING OF THE EAST would RETURN of the HOUSE of DAVID! (Mattiah 2:1-2, Acts 2:1-<9-11)
CONSIDER!    Who did YAH prophesy would from a FOREIGN LAND, give the "LIGHT of PEACE to the EAST"?  (Isaiah 46:8-13, Luke 1:76-78)  WHY would YESHUA as MESSIAH say, "I AM the ROOT and OFFSPRING of DAVID, the BRIGHT MORNING STAR"?    Surely that title had meant something VERY POWERFUL to the PEOPLE of THE FAITH!   Consider the titles "ARISING SUN OF RIGHTEOUSNESS, "RIGHTEOUS SHAHSHANSHAH likened to the RISING SUN", "SUNRISE".    WHO was the "KING OF THE MEDES" prophesied to OVERTHROW BABYLON once and for all?    Though He did RULE over all the territories of the EAST, He did not yet globally RULE also over ALL the WEST, as PROPHESIED!    Note that the book of REVELATION surely foretold that before the SAVIOR would RETURN, a REBELLION of the NATIONS, even the SLAUGHTERING of the SAINTS and a WORLD FALLEN AGAIN AWAY from the TRUTH of the FAITH!    REVELATION 22:10-21 related that surely this ROOT and BRANCH of DAVID and BRIGHT MORNING STAR would RETURN for SALVATION'S SAKE, to AGAIN DELIVER HIS PEOPLE from ALL who MISrepresent the FAITH who OPPRESS THEM who granted OPPORTUNITY would TURN from TRANSGRESSION!    Even that scripture related at ISAIAH 59:8-<19-21>-60:12, is reiterated ROMANS 11:25-12:4, and EPHESIANS 6:10-21 concerning the BLINDNESS that has in SOME PART BEFALLEN ISRAEL until the TIMES OF THE GENTILES must surely for REDEMPTION'S SAKE, come to an END!    CONSIDER!   ISRAEL canNOT be SAVED as TRUE to the HEART of the ANCIENT HEBREW FATHERS, till ALL the Ungodliness of the NATIONS is PURGED AWAY; and ALL the RIGHTEOUSNESS once the REVERENCE of ISRAEL of RESTORED!
Again.   It must be asked, WHY else in SEALING the book of REVELATION would YESHUA confirm His MESSIAHSHIP in admonishing the CHURCHES that surely He IS  the SHAHSHANSHAH expected out of the HOUSE of DAVID who bore the title "BRIGHT MORNING STAR"?    Consider again the passages at ISAIAH ch.11, 40:1-<27-41:4>-<21-42:4>-<19-43:15, 44:20-45:6>-<46:8-13, 48:10-49:6, 66, Malachi 2:17-3:4, 3:18-4:2>-6, Zechariah 3:8, 6:12, Jeremiah ch.48-<v.51:11 & v.28>-64, 2Chronicles 36:22-Ezra 1:4.   Surely the Messiah Yeshua would NOT have jeopardized the AUTHORITY given Him from ON HIGH but for ONE auspicious well-known REASON! (Mattiah 28:18-20 .. 2Chronicles 36:22-Ezra 1:4)     The KURTI-SHAHSHANSHAH was regarded throughout THE SYNAGOGUES and the CHURCHES OF THE EAST by the PRIESTS PROPHETS, APOSTLES and YESHUA HIMSELF, surely as the PROMISED AWAITED MESSIAH!   NOT to know this, is NOT only NOT to KNOW the SAVIOR, but NOT to know WHAT to PRAY FOR so as to prove beyond the MARKS OF THE BEAST-NATIONS, STEADFASTNESS as a SERVANT of YAH! (Yacob 1:1-8>-17, Isaiah 40:1-41:4)    This is the sure word of PROPHECY written of the by Apostle Kepa at 2Peter 1:19-21!
HEAR THIS!   It is written concerning the AWAITED ONE of the TRIBE of JUDAH the AWAITED RIGHTEOUS LAWGIVER SHILOH, WHO is HE?
Gen 49:1 And YACOB unto his sons, and said, GATHER YOURSELVES TOGETHER, that I may tell you that which shall befall you in the LAST DAYS.
Gen 49:8 JUDAH, thou art he whom THY BRETHREN SHALL PRAISE: thy hand shall be in the neck of thine enemies; thy father's children shall "BOW DOWN" before thee.   Gen 49:10 The expectation of a sceptre shall not depart from Judah, nor the expectation of a LAWGIVER from between his feet, UNTIL SHILOH COME; and unto HIM shall the GATHERING OF THE PEOPLE BE!
ISAIAH 45:23 I have sworn by MYSELF, the WORD is gone out of MY MOUTH in RIGHTEOUSNESS, and shall not return unto me void, That unto ME, …  "EVERY KNEE SHALL BOW",  and EVERY TONGUE SHALL SWEAR ALLEGIANCE!
TO DISCERN THE VERSES ABOVE, YOU MUST DISCERN ISAIAH 44:20-46:13 and ISAIAH 40:1-<27-41:4>-<21-42:4-<Isaiah 42:16-25>-43:15 .. Mat.12:18)  (Isaiah 45:6)
Rom 14:10 But why dost thou judge thy brother? or why dost thou set at nought thy brother? for we shall all stand before the judgment seat of THE KURTI.
Rom 14:11 For it is written, As I live, saith the Lord, "EVERY KNEE SHALL BOW BEFORE ME", and every tongue shall confess unto YAH.
Rom 14:12 So then every one of us shall give account of himself before YAH.
Rom 14:13 Let us not therefore judge one another any more: but judge this rather, that no man put a stumblingblock or an occasion to fall in his brother's way.
WHOEVER DOES NOT SEEK ACCORDING TO DIVINE OBLIGATION IN THE  HOLY OATH FOR THE WHOLE PURE PERFECT TRUTH OF YAH IS A STUMBLING-BLOCK AGAINST THE AWAKENING OF OUR PEOPLE!   FOR THIS REASON, ABRAHAM WAS COMMANDED TO SEEK ALL THAT IS THE PURE PERFECT WILL OF YAH AS A BLESSING TO THE NATIONS! (Genesis 17:1-9) (Mark 12:29-31) (ISAIAH 56:9-57:14) (HEBREWS 12:7-17 … NUMBERS 24:14-<17-23)

Phil 2:2 Fulfil ye my joy, that ye be LIKEMINDED, having the SAME LOVE, being of ONE ACCORD, of ONE MIND.  (1Cor.1:10-11 .. in the PEACE of YAH)
Phil 2:3 Let nothing be done through STRIFE or VAINGLORY; but in HUMILITY of MIND let each esteem OTHERS moreso than THEMSELVES.
Phil 2:4 Look/ esteem ..  not every man on account of his own things, but every man regard also on the things of others.
Phil 2:5 Let this MIND be in you, which was also in KURTI YEOSHUA:
Phil 2:6 Who, being in the form of and formed of YAH, did not … after mere vain arrogance …  consider equality / oneness with YAH a thing to be claimed through robbery:  ie. injustice. (Isaiah 40:25-41:4 .. Malachi 2:16-3:4>-9)
Phil 2:7 But made Himself of no reputation, and took upon him the form of a servant, and was made in the likeness of men:
Phil 2:8 And being found in fashion as a man, He HUMBLED Himself, and became obedient unto death, even the death of the stake.
Phil 2:9 Wherefore YAH also hath highly exalted Him, and given Him a NAME, a TITLE OF HONOR which is ABOVE EVERY NAME/ TITLE: (Isaiah 44:20-45:6)
Phil 2:10 That at the NAME/ TITLE/ AUTHORITY of YEOSHUA .. EVERY KNEE SHOULD BOW, of things in heaven, and things in earth, and things under the earth;
Phil 2:11 And that every tongue should confess that YEOSHU the KURTI is LORD/ MASTER, to the GLORY/ HONOR of YAH His FATHER.
Phil 2:12  Wherefore, my beloved, as ye have always should have obeyed, not as in my presence only, but now much more in my absence, work out your own salvation with fear and trembling.
WHO is this before whom EVERY KNEE shall BOW, that EVERY KNEE shall BOW BEFORE YAH, .. even HIM before WHO ALL shall BOW before the GLORY of YAH?
LET ALL THE WORLD that has worshipped a FALSE MESSIAH which the RULERS 
contrived to say gave THEM AUTHORITY .. WAKE UP!   To be CONVERTED beyond this IDOLATROUS LIE that MEN have MADE!! (Mat.28:18-20, Isaiah 44:6-<22-45:5>-<23-25>-<46:8-13)    Indeed!   WHOEVER does NOT know YEOSHUA as SHILOH, SHAHSHANSHAH, ROOT and OFFSPRING of DAVID the BRIGHT MORNING STAR, the KURTI and GLOBAL INHERITOR .. has worshipped a FALSE MESSIAH!    A WHOLE WORLD has worshipped a FALSE MESSIAH for NOT discerning the TRUE!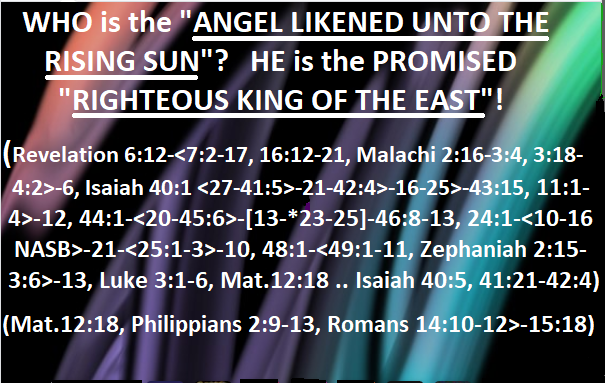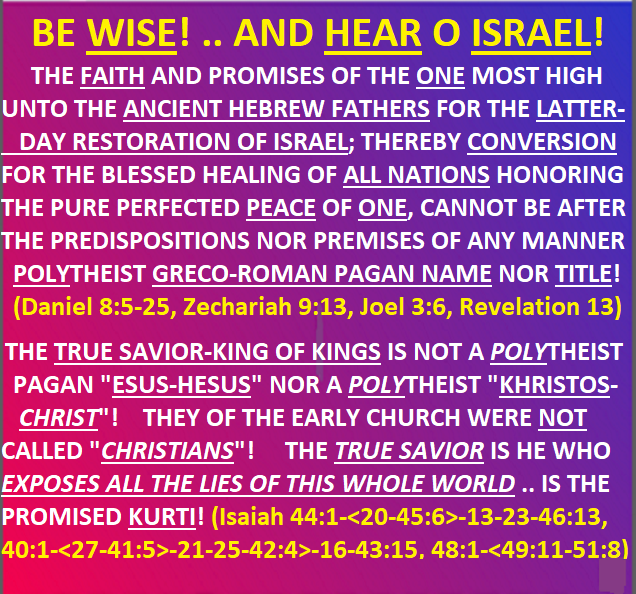 HEED THE COLLECTIVE BIBLICAL WORD OF TRUTH A WHOLE WORLD UNDER THE INFLUENCE OF LIES HAS BEEN PREDISPOSED TO IGNORE AS UNSEEN!

ONLY WHEN MANKIND SHALL KNOW HOW NOT TO LIE CAN MAN KEEP TO PRESERVE THE INTEGRITY OF DIVINE COMMAND! ONLY WHEN MAN KNOWS AGAIN HOW NOT TO LIE IS NOT SO EASILY DECEIVED!

(Zephaniah 2:15-3:6>-13)
REALIZE that the ONLY MESSIAH that since ISAIAH, ZECHARIAH and MALACHI knew to subsequently … EXPECT .. was Him who they knew as THE KURTI, the KING OF THE EAST! THE KING OF THE MEDES! THE SUDDENLY ARISING "SUN OF RIGHTEOUSNESS" aka "MORNING STAR" that ARISES SUDDENLY to CAST OUT ALL the DARKNESS; REVEAL the LIGHT this WORLD has OBSCURRED; and to EXPOSE ALL THE SONS of DARKNESS WHO have HID the LIGHT of TRUTH from YOU!
Mat.11:3, 3:3, Luke 7:19-20, 3:4 .. Mark 1:3, Isaiah 40:1-<27-41:5 .. John 1:23 .. ISAIAH 11:1-4>-<10-12 .. Romans 15:12, .. Mat.12:18 .. Revelation 22:16, 2Thessolonians 2:1-<7-12 )
THIS IS the KURTI-SHAHSHANSHAH-SHILOH whom YEOSHU said HE IS! (Rev.22:16) THIS IS WHO YEOSHU shall RETURN AS to DO at last ALL that was FORMERLY FORETOLD unto ALL that PLEASES YAH!

(Isa.44:20-45:6 .. Genesis 49:1-<8-12, Revelation 19:11-21, 22:16)
THIS IS THE OVERTHROWER OF ALL THE MISREPRESENTATIONS OF BABYLON! THIS IS THE ONE CHOSEN FROM OF OLD TO RESTORE RESPECT FOR YAH AS HE IS TO RESTORE THE COVENANT OF TRUTH!
(Isaiah 40-41-42:1-4>-43>-<44-46 … Mat.12:18, Jeremiah 50-51, 23:1-5, Malachi 3:18-4:2>-6, 2:16-3:4>-9, Zechariah 3:8, 6:12 .. BRANCH is SUNRISE in Hebrew!
This ONE who comes like the SUDDEN ARISING of the SUN, is PROMISED LATTER-DAY RESTORER OF THE GOSPEL OF THE KINGDOM OF YAH WHICH THE KINGS OF THIS EARTH HAVE ALWAYS SOUGHT TO COUNTERFEIT WITH MOCKERIES TO HIDE! (Isaiah 41:21-15>-42:4 .. Mat.12:18 .. Isaiah 61:1-5 .. Luke 4:18-21 .. Revelation ch.14)
THERE is an EXCITING PARALLEL between the verses of REVELATON 18:1-5 
and JEREMIAH chapter 51 toward identifying WHO is the AWAITED ONE!
Rev 18:1 AFTER these things I saw another angel come down from heaven, having great power; and the earth was lighted by his glory.
Rev 18:2 And he cried with a mighty voice, saying, Babylon the great is fallen and has become a habitation of those possessed with devils and the shelter of every foul spirit and the shelter of every unclean and detestable bird and the shelter of every unclean and loathsome wild beast. (Isaiah ch.13 .. Mat.24:29 .. 13:24-25 .. Revelation 6:12 .. Isaiah 24:1-<10-16 NASB>-*22-23>-25:1-3>-10, 26:7-<12-13>-<17-18>-21, 27:9-13 .. See in this website the article "SECRETED CITY PROPHECIES")
Rev 18:3 Because all nations have drunk of the wine of her wrath and the kings of the earth have committed adultery with her and the merchants of the earth have become rich through the power of her trade.
Rev 18:4 And I heard another voice from heaven, saying, COME OUT OF HER O MY PEOPLE!  SO THAT YOU MAY NOT BECOME PARTAKERS IN HER SINS AND LEST YOU BE SMITTEN BY HER PLAGUES!
Rev 18:5 FOR HERE SINS HAVE REACHED UP TO HEAVEN, AND YAH HAS REMEMBERED HER INIQUITIES!
Jer 51:6 FLEE FROM THE MIDST OF BABYLON, and LET EVERY MAN SAVE HIS LIFE!   BE NOT SWALLOWED UP IN HER INIQUITIES!   For this is the time of the LORDS vengeance; he will render to her according to her works.
Jer 51:7 Babylon has been a golden cup in the LORDS hand that made all the earth drunken of her wine; all the nations have drunk, and therefore the nations stagger with drunkenness.
Jer 51:9 We would have healed Babylon, but she is not healed: FORSAKE HER, and let us go every one into his own country: FOR HER JUDGEMENT REACHES UNTO HEAVEN, and is LIFTED UP EVEN TO THE SKIES!
Jer_51:11 Gather the quivers; fill them with arrows; *the LORD has stirred up the spirit of the KING OF THE MEDES; for his device is against Babylon, to destroy her; because it is the vengeance of the LORD, the vengeance of his temple.
Jer_51:28 Prepare the nations for war against her, the KING OF THE MEDES and his princes and all his governors. (*2Chronicles 26:22-Ezra 1:4 .. Mat.28:18-20 .. Revelation 22:16-21 .. Luke 1:67-78 .. Isaiah 11:1-4>-[10-12]-16)
TELL ME!   DID YOU REALLY EXPECT THAT BABYLON WOULD WARN TO
ADVISE YOU TO BE ABLE TO PREPARE ARIGHTLY THAT YOU KNOW TO DISCERN ITS DESTROYER?   Hmmm. 

Trust in all the MISrepresentative contradictions of MEN is NO RESPECT, NO REFERENCE POINT for REVERENCE HONORING YAH as HE IS at ALL!
Malachi 1:4, 3:18-4:2>-6, 45:6, 59:19-21, Hosea 11:5-<10-12, 1Cor.1:10-11, 3:14-<17-4:5, Isaiah 40:27-41:5)
THIS IS THE ONE, THE FORETOLD DRAGON-SLAYER, THE SERPENT-KILLER "OPHIUCHUS-SAYOSHIANT" THAT THE UNREASONING BEASTS-NATIONS' CHURCHES WOULD THEREFORE DESIRE NONE TO KNOW!

(Genesis 3:15)
RECEIVE THE BLESSED LATTER-DAY GIFT OF "KNOWLEDGE INCREASED" FORETOLD OF OLD! CONQUER EVERY LIE! (Yacob/ James 1:1-8)
Unto YAH be the Might, Majesty, Supreme Sovereign Honor and Reverent Praise ALWAYS! Hallelu'YAH!
The TRUTH of the "anointed messianic "Lord" that a WHOLE WORLD of treacherous kings and pastors have selfishly sought to OBSCURE .. is NOW being revealed before your eyes! As I have said before, it is NOW VERY VERY LATE!
Blessed are they wisely humble and diligent enough to seek and believe!
"It is the sure duty of a prophet, to speak what others would not!"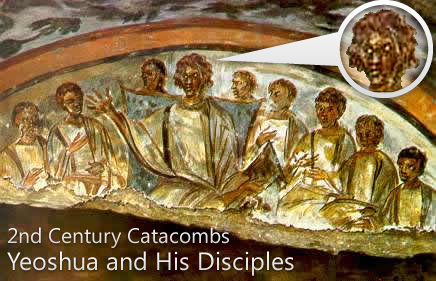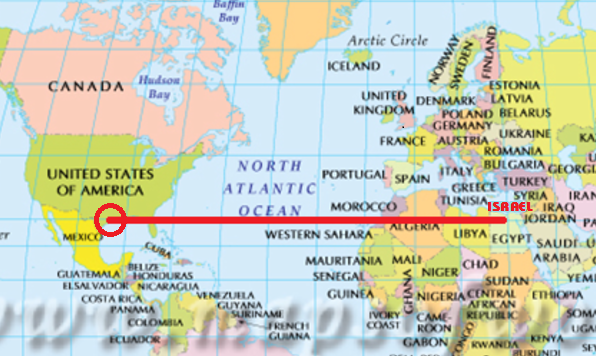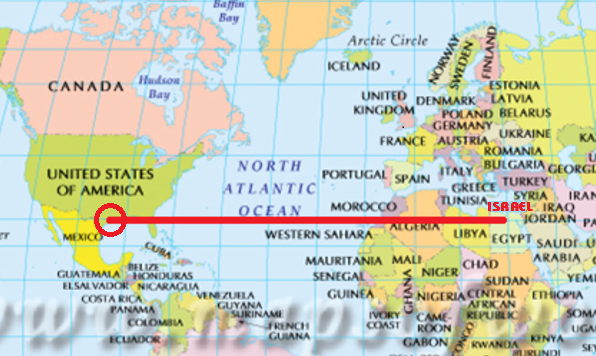 LUKE 3:4-6 compared to ISAIAH 40:1-<4-9>-<27-41:5>-<21-25-42:4-<16-25>-43:15, 44:1-<20-45:6>-13-*23-25>-45:8-13, Philippians 2:9-13, Rom.14:10-12 reveals much.
Consider ROMANS 14:8-<11>-12, PHILLIPIANS 2:8-<10-11 concerning these verses relate YESHUA as the  CRUCIFIED SAVIOR!    So I ask therefore, WHERE did the verse, "Unto HIM EVERY KNEE shall BOW, and EVERY TONGUE shall CONFESS" come from?  CONSIDER ISAIAH 45:23 in context of ISAIAH 44:20-45:6>-<19-46:13)
WHO is it speaking of at ISAIAH 50:1-8 .. comparing ISAIAH 45:24.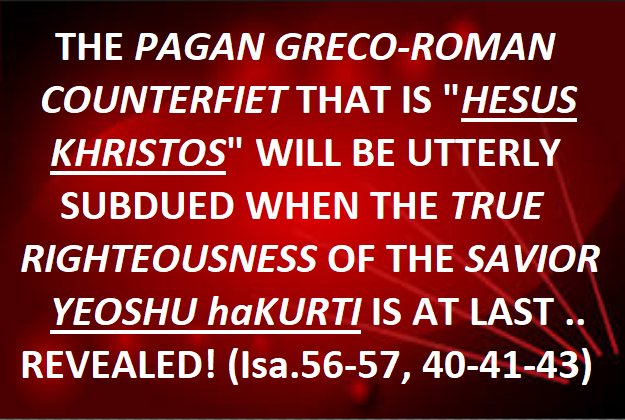 THINK ABOUT IT MY PEOPLE!   PRAY ABOUT THE EVIDENCE YOU HAVE
BEEN NOW COMPELLED TO ADDRESS!    NOT TO DO SO IS BLASPHEMY!
My name is Ed Ymiah
Hallelu'YAH!