NOTE!   REQUIRED READING for THEM who FIND this ARTICLE of ENLIGHTENED INTEREST!
"YOUR SLAVE MASTERS!  DID THEY EVER REALLY SET YOU FREE!"
hiddengospel.com/slave-masters
hiddengospel.com/sankofa-2-the-remembrance
FROM THE BEGINNING SINCE THE FALL, THE ANCIENT PROPHETS FORETOLD CONCERNING A BLACK MAN TO COME SUDDENLY LIKE THE RISING OF THE SUN TO CAST OUT ALL THE DARKNESS OF MAN-MADE CONFUSIONS!   HE ONCE BEFORE BY THE POWER OF THE MAKER OF HEAVEN AND EARTH TOOK AUTHORITY SO AS TO GALVANIZE ALL OUR PEOPLE IN PEACE THROUGHOUT ALL UPPER AFRICA ie. ALKEBULAN and AFRO-ASIA!    WHETHER OVER TIME OUR PEOPLE FASHIONED THEMSELVES MONOTHEIST or POLYTHEIST, THIS HOPE AND PLAN FOR PEACE REMAINED!   WHY IS THAT SO FEW AMONG US KNOW TO GIVE DUE RESPECT TO THE STRIVINGS, STRUGGLE, ASPIRATIONS AND DREAMS OF OUR MOST ANCIENT ANCESTORS TO KNOW AND REVIVE THE ANCIENT STEADFAST AND SURELY CERTAIN EXPECTATION OF HIM?  YES, EVEN HE WHO IS PROMISED TO COME THREE TIMES TOWARD THE SURE PROGRESSION OF HUMAN CONSCIENCE TO ATTAIN BEYOND ALL WORLDLY CONTRADICTIONS!    WITH WHAT IS A PURE AND PERFECT MESSAGE FROM ABOVE, HE COMES TO EXPOSE ALL THE PRETENSES AND SELFISHLY AMBITIOUS EXPLOITATIONS OF VAIN UNRIGHTEOUSNESS THAT HAVE IMPRISONED THE MINDS AND HEARTS OF MEN!   HE COMES TO BRING RIGHTEOUS PEACE WROUGHT IN ETERNAL TRUTH AS DECREED FROM the BEGINNING that HUMANITY HAS FORGOT! HE COMES WITH TRUTH TO DESTROY ALL CONFUSION FROM THE FACE OF THIS EARTH, ULTIMATELY THIS TIME, ONCE AND FOR ALL! (Isaiah 45:6, 59:8-<19-21, 24:10-16 NASB, 44:22-45:6>-<19-25>-<46:8-13, 40:1-<27-41:4>-<21-42:4>-<16-25>-43:15, 48:1-<14-49:6>-<10-11 .. REVELATION 6:12-7:17) (2CHRONICLES 36:22-EZRA 1:4, JEREMIAH ch.50-51, REVELATION 16:12-21, 6:1-<12-[7;2]-<16-17)
SEE ALSO ON THIS WEBSITE THE VERY POWERFUL BROTHER ARTICLES, "PROPHETIC PROOF", "THE SECRET CITY PROPHECIES", EARLY CHURCH ORIGIN AND MUTUAL EXPECTATION", AND "GREAT TRIBULATION 70-365AD".
THIS ARTICLE WAS WRITTEN FOR THE SAKE OF THEM WHO KNOW OF, WOULD KNOW OF, AND DID AND DO ATTEND THE ANNUAL OCTOBER SANKOFA CELEBRATONS HELD AT GALVESTON AND IN HOUSTON, TEXAS EACH YEAR!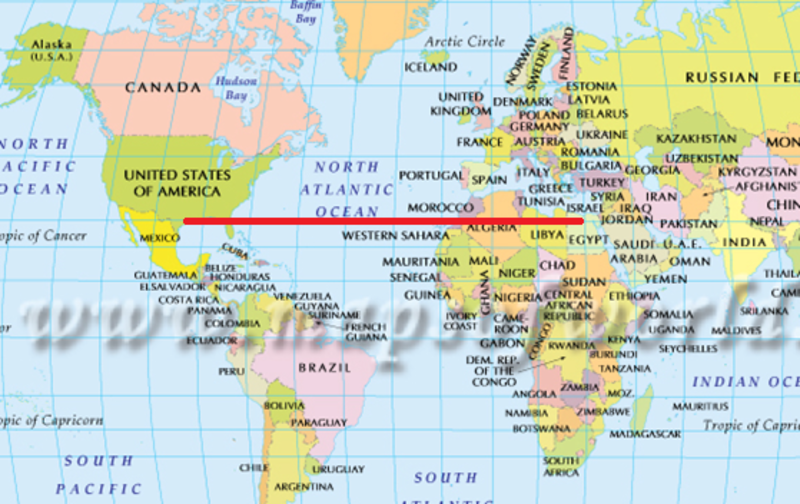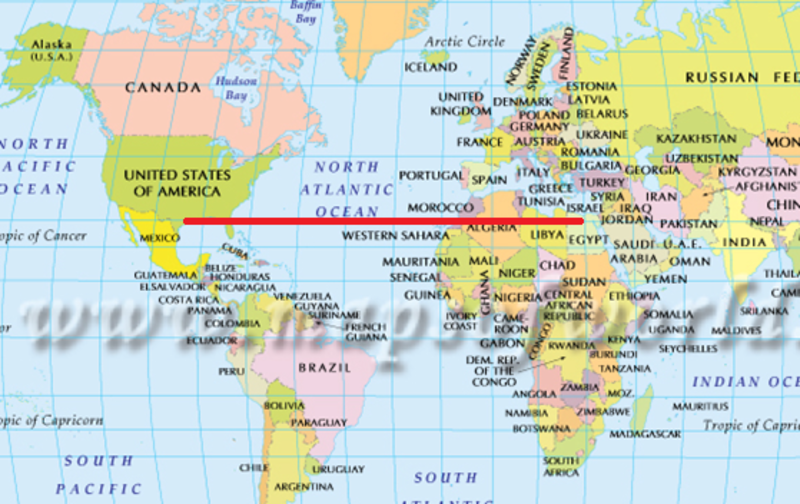 The TRUTH that must be known is that indeed in the Spirit of Remembrance, what the MAKER of HEAVEN and EARTH, MOST HIGH decreed from the VERY BEGINNING, also declares what must be the EVENTUALITY that ALL THINGS be RESTORED AGAIN to INITIAL PURPOSE toward EVER-LASTING COVENANTED PEACE.  Yes PEACE, even between ALL of the EARTH with ALL of HEAVEN-SHAMAYIM ITSELF!  
This article was written that ALL WE TODAY may be brought again to mind concerning a VERY POWERFUL TRUTH that OUR MOST ANCIENT ANCESTORS KNEW.  Whether though over time some had fallen away from the most ancient MONOtheism toward POLYtheism after a multitude of DI-VERSE NATIONS which in fact if man has remained TRUE would NEVER have come to be; … THEY ALL AWAITED wth MUCH ANTICIPATION and EXPECTATON in the HOPE for PEACE founded in TRUTH; a SURE PROMISED DELIVERER!  (Isaiah 40:1-<27-41:4)  They ALL AWAITED HIM for the BLESSED GRACE of ENLIGHTENMENT for the PURGING of the MINDS!   A LIGHT likened to the SUDDEN UNEXPECTED RISING OF THE SUN TO CAST OUT ALL THE DARKNESS OF THEM WHO WOULD IMPRISON A WORLD AFTER THE CONTRADICTIONS OF MASS CONFUSION!   THIS was the ANCIENT FAITH, HOPE and ASPIRATIONS of OUR PEOPLE that WE may ALL be ONE,  even ALL may one day WE as a PEOPLE may ALL AGREE PERFECTLY and FOREVER in PERFECT PEACE!   To FORGET that ancient PROMISE is a FALL from FAITH as to have NO PARTAKERSHIP in the ANCIENT HOPE of OUR MOSt ANCIENT and FAITHFUL ANCESTORS devout int the TRUTH of HUMAN PURPOSE!    To FORGET this GOSPEL is to be LOST to the continual ILLUSIONS that have till this day remained the DIVISIONS, CURSES, DAMNATIONS of the HUMAN SOUL wrought of GLOBAL UNBELIEF! (John 1:1-4>-12, 3:14-21, Ephesians 2:8-16>-<3:16-4:12>-17)

There is therefore a POWERFULREASON WHY the anciently appointed AFRO-ASIAN/ CABLASIAN KING of the MEDES, the KING and ANCIENT FOUNDER-KING OF THE ANCIENT MEDO PERSIAN KURDISTANI EMPIRE was WELCOMED into the GATES of ANCIENT BABYLON, even to gain DOMINION over MANY LANDS, WITHOUT a FIGHT!   The PEOPLE has KNOWN of the GREAT EXPECTATION for a KING of RIGHTEOUS JUSTICE!   WHY have we NOT HEARD concerning this CHOSEN BLACK MAN who for centuries left a legacy that GALVANIZED ALL OUR PEOPLE throughout the EAST and UPPER ALKEBULAN-AFRICA in PEACE?    There is a VERY POWERFUL TRUTH is that WESTERN IMPERIALISTS MURDERED literally MILLIONS that were it up to THEM, OUR PEOPLE TODAY would NEVER have YOU or ANYONE ELSE to KNOW!    Indeed!   ANCIENT ROME MURDERED MANY MANY MILLIONS of OUR ANCESTORS that FEW henceforth have discerned the WANTONLY INCONSCIENT LAWLESSNESS that has kept INCOMPLETE and therefore continually UNJUST the CONSCIENCE of this PRESENT AGE!    ANCIENT ROME schemed and devised a MURDEROUSLY DAMNING PLAN that what indeed was the ANCIENT EXPECTATION of OUR PEOPLE in the AFRO-ASIAN EAST has remained for POLITICAL REASONS, almost wholly FORGOTTEN!    For what this ancient AFRO-ASIAN CONQUEROR  was foreordained that he must do and did in the EAST to RESTORE HIS PEOPLE unto TRUTH; it must surely come to pass AGAIN to bring ULTIMATE GLOBAL PEACE, even unto the WEST! (Isaiah 44:20-45:6>-<19-23-25>-46:8-12, Romans 14:10-12>-15:18, Philippians 2:9-11, Isaiah 24:10-16 NASB, 59:8-<19-21>-60:12, Revelation 22:16 .. Luke 1:67 & 1:78 .. Isaiah 40:1-<27-41:4>-<21-42:4>-<16-25>-43:15 .. Mat.12:18)
KNOW THE REALITY!   IF INDEED THE RULERS OF THIS WORLD HAD TAUGHT WHAT IS THE TRUE GOSPEL, THERE WOULD BE PEACE! (Isaiah 41:21-42:4 NASB)
IT IS UTTER FOOLISH ABSURDITY TO BELIEVE THE KINGDOM PEACE SHALL BE ESTABLISHED AFTER PRETENTIOUSLY PRESUMPTUOUS SELF-RIGHTEOUS LAWLESSNESS, THE DIVERSE FOLLY THAT IS MANY MISRULING PARTIALITIES CATERING TO THE MANY CONTENTIOUS VAIN DESIGNS OF MEN!
Yet to this DAY, men have read the scriptures, NOT taking into consideration that the GREEK LANGUAGE had no precise word to relate the DIFFERENCE between the FULLNESS of RIGHTEOUS AWARENESS that is the LAW of the MOST HIGH, vs. the FLAW ie. FLAW and MISRULE .. of the ROBBER RULERS amongst the NATIONS! (Psalms 2)    For the RULERS of the NATIONS desire that NONE should ever discern to REVERE any form of RULE beyond .. THEMSELVES!    Indeed therefore by FAITH beyond SIGHT, the GRACE of YAH is HIS REVELATION of HIS LAW for PEACE!  (Jeremiah 30-31)   Hallelu'YAH!
The time is come to be restored to mind, the hope of that ancient promise! (Acts 3:18-23)   Blessed be they who in precious REMEMBRANCE will heed! (Malachi 3:13-<18-4:2>-6)   Shall we now with HONOR choose now to REMEMBER the MOST ANCIENT DREAMS and LONG FORGOTTEN ASPIRATIONS of OUR PEOPLE, or will we choose forever FORGET?     NOT to REMEMBER what was FROM THE BEGINNING is only to preserve the DISSONANT VIBRATIONS of CONFLICT and CONFUSION wherein is NO HOPE for ETERNAL AGREEMENT unto an EVERLASTING PEACE!    The TRUTH is NOT PART of what it is, but WISDOM giving CONSIDERATION of ALL that it is that we draw NO HASTY CONCLUSION short of ALL that is TRULY FROM THE BEGINNING FOREORDAINED, ETERNAL!    For indeed, for PEACE in TRUTH SAKE, ALL else after the MISimaginations and MISadministrations of MEN shall perish! (Isaiah 59:8-<19-21>-60:12)     Hallelu'YAH!
TODAY, FEW ARE THEY WHO HAVE KNOW TO REASON CONCERNING THIS VERY POWERFUL FACT!   SINCE THE FALL, OUR ANCIENT ANCESTORS WHETHER THEY THOUGHT THEMSELVES MONOTHEIST OR POLYTHEISTIC, THEY ALL AWAITED THE PROMISED ANOINTED ONE ANCIENTLY CALLED, SHILOH, KURTI, SHAHSHANSHAH, SAYOSHIANT, OPHIUCHUS (SNAKE-HEAD CRUSHER), MASHIYACH, AND AS SUCH THEREFORE THE SAVIOR!    THE ONE PROMISED TO REVEAL AGAIN THE SURE RIGHTEOUSNESS OF YAH UNTO THEM WISE AND REVERENT TO KNOW THAT THE MOST HIGH HAS PURPOSED FROM THE BEGINNING WHAT ON EARTH MUST BECOME THE REALITY!    FOR THE MOST HUMBLE SOUL KNOWS THIS WELL! ABSOLUTELY NO MANNER OF POLLUTION NOR PARTIALITY AFTER THE UNSURE LAWLESSNESS OF HUMAN CONSCIENCE IS WORTHY OF THE HOLY AND ETERNAL KINGDOM OF THE LIVING YAH!    BLESSED FOREVER BE THE HOLY NAME!     LET NO MAN PROFANE IT AFTER ThE SHORT-SIGHTED ARROGANCE AND MISIMAGINATIONS OF CARNAL MIND!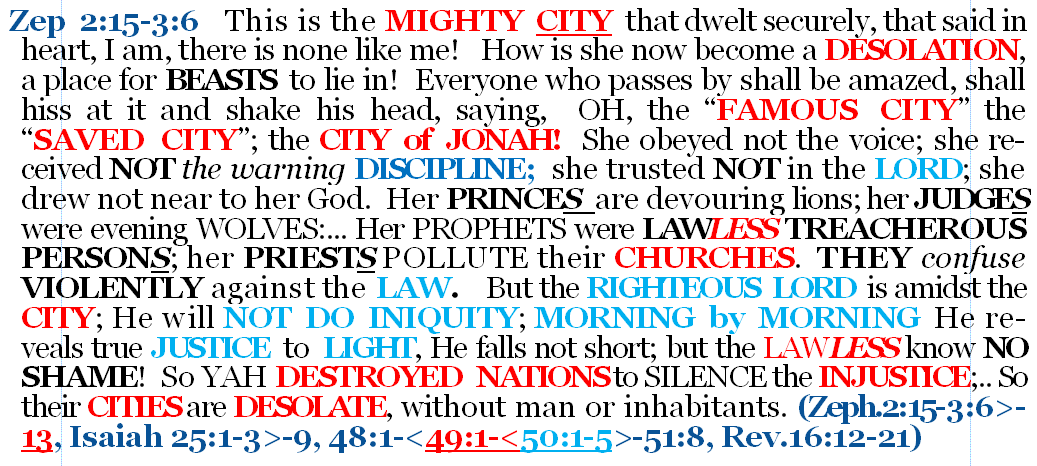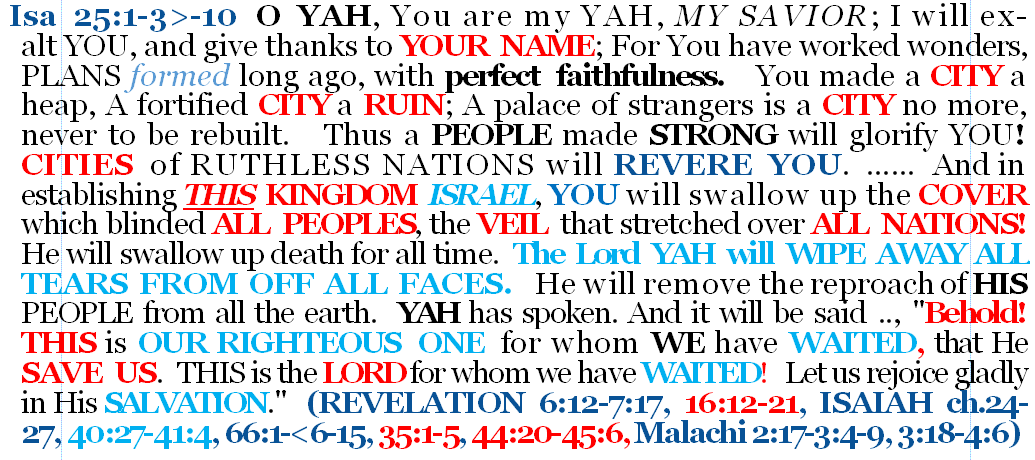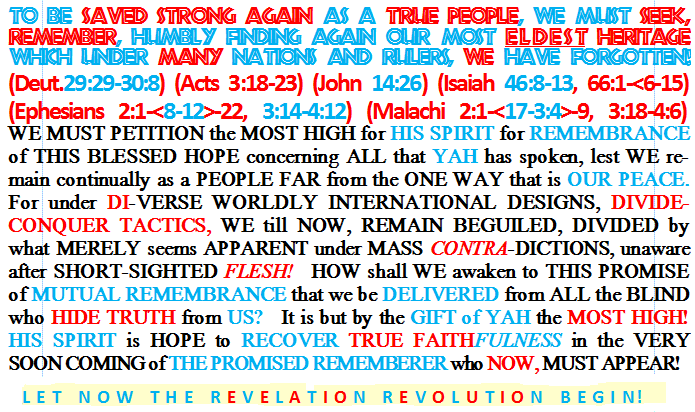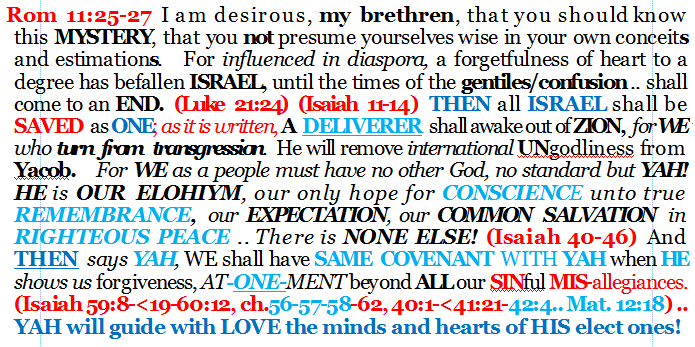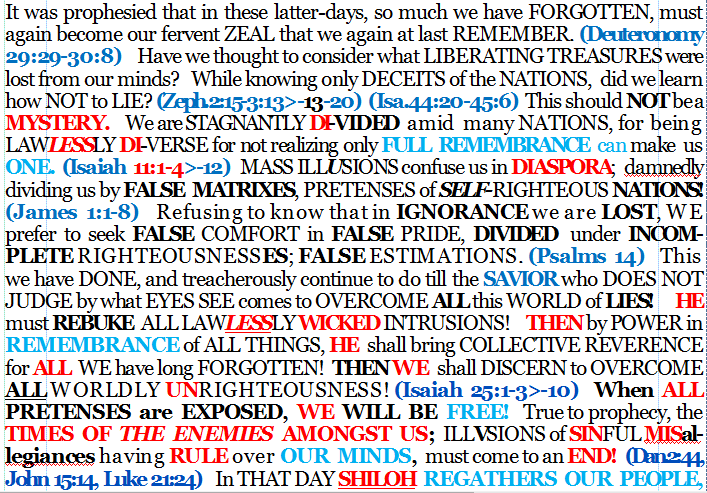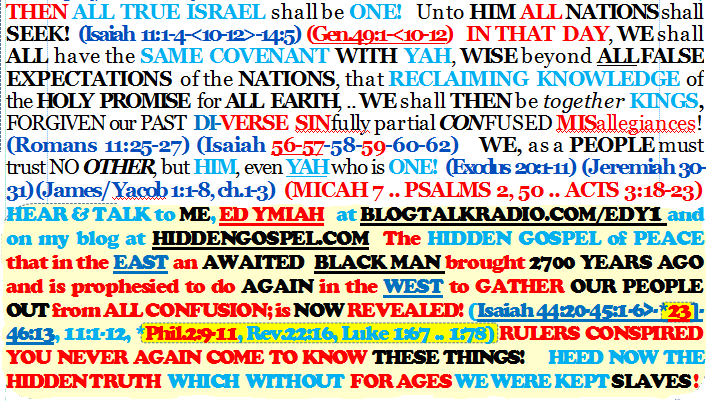 By a FAITH far beyond ORDINARY SIGHT, WE as a PEOPLE must REMEMBER ALL the PRECIOUS TRUTHS OUR MOST ANCIENT ANCESTORS KNEW, that NOW for MANY AGES due to MUCH MASS MURDEROUS PERSECTION, WE have FORGOTTEN!  It is time to REMEMBER the ANCIENT TRUTH OUR MOST ANCIENT FOREFATHERS IN UPPER AFRICA AND ASIA OF THE MONOTHEIST REVOLUTION OF THE EAST ONCE KNEW.  IT WAS A HOPE THAT DID NOT EXIST AMONGST THOSE WHO PRESERVED THE MURDEROUSLY IMPERIALIST DARK AGENDAS OF THE ANTAGONISTICALLY POLYTHEIST WEST!    It is the UTMOST DISHONOR and NO LOVE for ANYONE, ..  if anyone TODAY fail to SEEK in ALL THINGS to surely REMEMBER!   IF we choose to IGNORE this CLARION CALL, on WHOSE SIDE do we CHOOSE to be and remain? (Daniel 8:5-25, 11:28-36) (Acts 3:18-23, Isaiah 65:10-<66:1-<6-15) (Malachi 2:17-3:4>-9, 3:13-<18-4:2>-6)
Version:1.0 StartHTML:000000226 EndHTML:000015570 StartFragment:000002647 EndFragment:000015538 StartSelection:000002847 EndSelection:000015520 SourceURL:http://hiddengospel.com/wp-admin/post.php?post=3829&action=edit
HEED THE COLLECTIVE BIBLICAL WORD OF TRUTH A WHOLE WORLD UNDER THE INFLUENCE OF LIES HAS BEEN PREDISPOSED TO IGNORE AS UNSEEN!

ONLY WHEN MANKIND SHALL KNOW HOW NOT TO LIE CAN MAN KEEP TO PRESERVE THE INTEGRITY OF DIVINE COMMAND! ONLY WHEN MAN KNOWS AGAIN HOW NOT TO LIE IS NOT SO EASILY DECEIVED!

(Zephaniah 2:15-3:6>-13)
REALIZE that the ONLY MESSIAH that since ISAIAH, ZECHARIAH and MALACHI knew to subsequently … EXPECT .. was Him who they knew as THE KURTI, the KING OF THE EAST! THE KING OF THE MEDES! THE SUDDENLY ARISING "SUN OF RIGHTEOUSNESS" aka "MORNING STAR" that ARISES SUDDENLY to CAST OUT ALL the DARKNESS; REVEAL the LIGHT this WORLD has OBSCURRED; and to EXPOSE ALL THE SONS of DARKNESS WHO have HID the LIGHT of TRUTH from YOU!
Mat.11:3, 3:3, Luke 7:19-20, 3:4 .. Mark 1:3, Isaiah 40:1-<27-41:5 .. John 1:23 .. ISAIAH 11:1-4>-<10-12 .. Romans 15:12, .. Mat.12:18 .. Revelation 22:16, 2Thessolonians 2:1-<7-12 )
THIS IS the KURTI-SHAHSHANSHAH-SHILOH whom YEOSHU said HE IS! (Rev.22:16) THIS IS WHO YEOSHU shall RETURN AS to DO at last ALL that was FORMERLY FORETOLD unto ALL that PLEASES YAH!

(Isa.44:20-45:6 .. Genesis 49:1-<8-12, Revelation 19:11-21, 22:16)
THIS IS THE OVERTHROWER OF ALL THE MISREPRESENTATIONS OF BABYLON! THIS IS THE ONE CHOSEN FROM OF OLD TO RESTORE RESPECT FOR YAH AS HE IS TO RESTORE THE COVENANT OF TRUTH!
(Isaiah 40-41-42:1-4>-43>-<44-46 … Mat.12:18, Jeremiah 50-51, 23:1-5, Malachi 3:18-4:2>-6, 2:16-3:4>-9, Zechariah 3:8, 6:12 .. BRANCH is SUNRISE in Hebrew!
This ONE who comes like the SUDDEN ARISING of the SUN, is PROMISED LATTER-DAY RESTORER OF THE GOSPEL OF THE KINGDOM OF YAH WHICH THE KINGS OF THIS EARTH HAVE ALWAYS SOUGHT TO COUNTERFEIT WITH MOCKERIES TO HIDE!

(Isaiah 41:21-15>-42:4 .. Mat.12:18 .. Isaiah 61:1-5 .. Luke 4:18-21 .. Revelation ch.14)
Trust in all the MISrepresentative contradictions of MEN is NO RESPECT, NO REFERENCE POINT for REVERENCE HONORING YAH as HE IS at ALL!
Malachi 1:4, 3:18-4:2>-6, 45:6, 59:19-21, Hosea 11:5-<10-12, 1Cor.1:10-11, 3:14-<17-4:5, Isaiah 40:27-41:5)
THIS IS THE ONE, THE FORETOLD DRAGON-SLAYER, THE SERPENT-KILLER "OPHIUCHUS-SAYOSHIANT" THAT THE UNREASONING BEASTS-NATIONS' CHURCHES WOULD THEREFORE DESIRE NONE TO KNOW!

(Genesis 3:15)
RECEIVE THE BLESSED LATTER-DAY GIFT OF "KNOWLEDGE INCREASED" FORETOLD OF OLD! CONQUER EVERY LIE! (Yacob/ James 1:1-8)
Unto YAH be the Might, Majesty, Supreme Sovereign Honor and Reverent Praise ALWAYS! Hallelu'YAH!
Unto YAH be the Might, Majesty, Supreme Sovereign Honor and Praise Always!    Hallelu'YAH!