Earliest publishing upon realizing reckoning of this info © late 1985 ..  Much has since then occurred preparatory toward full manifestation NOW of all that of old was anciently foretold by all the holy prophets! (Acts 3:18-23)   Latest version update 11/2/2013   1:43PM CST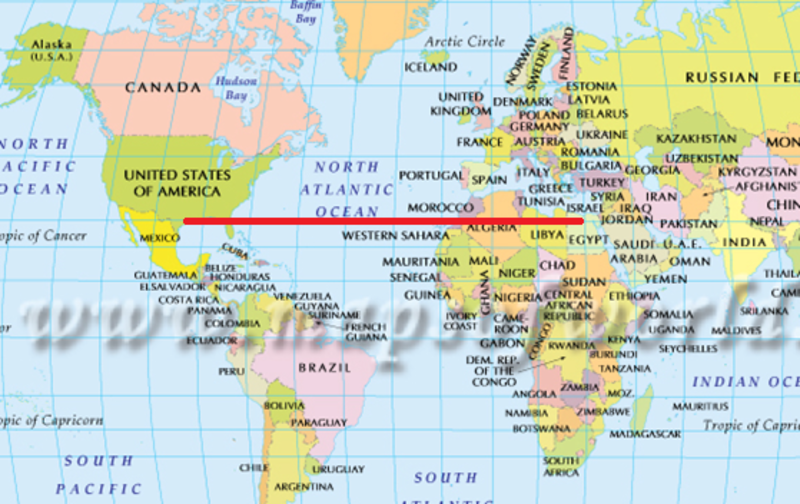 BE WISE and know it is GOOD before YAH to SUPPORT THIS MINISTRY!    For as the MOST HIGH unto ME has directly spoken, "The GREATEST WISDOM is NOT what MEN think they KNOW, but in what they DO NOT KNOW!    For what men THINK they know not taking ALL the MOST HIGH has spoken into consideration, is NOT WISDOM at all!"     Therefore they who support the uniqueness of this ministry where the most HIDDEN WISDOM is told, are GREATLY REWARDED!
See also the very insightful "sister" article on this highly informative website!    REMEMBER the PROMISE and claim VICTORY over a WHOLE WORLD of CONSPIRACIES formed unto FORGETFULNESS of that which should NEVER have ever been FORGOTTEN!   EARLY CHURCH ORIGIN AND MUTUAL EXPECTATION!  www.hiddengospel.com/early-church-origin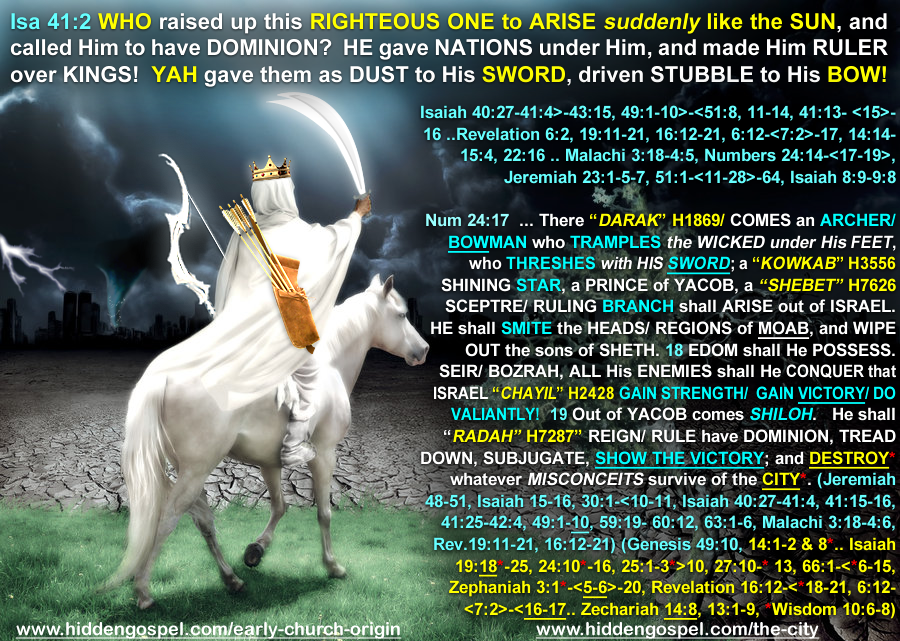 NOTE!   This website is empowered to show verse notations.   Should any of them seem to "flicker", place your mouse marker in the "balloon space" itself to stabilize.   A left click takes you in another tab for further elaboration and options.   The intial verbage space seems limited to four verses at a time, and will often behave differently to display upwards or downwards dependent on where the verse is displayed on your screen.    Scroll up or down to make available more of the verses as is important to this study.   Default setup however, will be found utmost appropriate for many of the purposes related here.

ALSO!   Want further to examine the hebrew words related in the depiction above?  Here's a few links for download of a "free version" and update of a bible program that over the years I have found to be very simple to use, an early edition of "Quickverse 4".  I offer this searchable link, yet all disclaimers apply.  I am non-afflilate with the websites and/or owners linked below.  Parson's Technology is the offlicial author/ owners of the software(s).    http://www.cartecay.com/Free%20Bible%20Download      http://craigr.com/faq.htm
THE SECRET of "THE CITY"!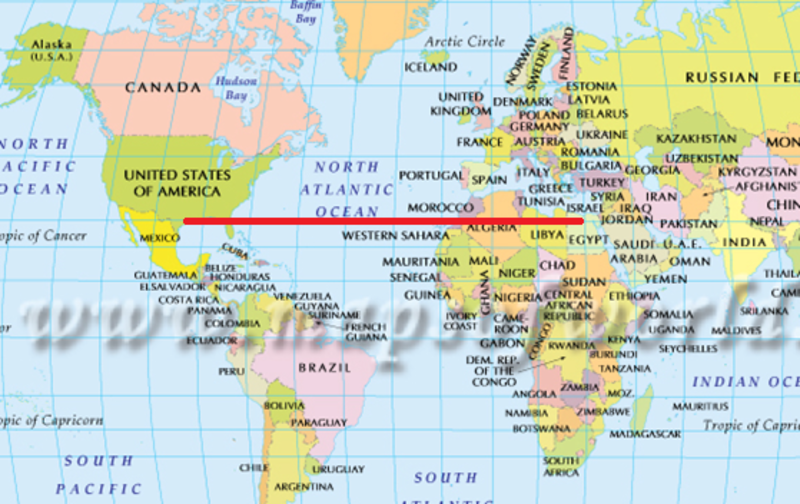 Hosea 11:10  They shall walk after the LORD: He shall roar like a LION: when He shall ROAR, then HIS CHILDREN shall come trembling from the WEST.
Hosea 11:11  They shall tremble as a BIRD out of Egypt, and as a DOVE out of the land of Assyria: and I will place them IN THEIR HOUSES, saith the LORD.
Isa 24:10  NASB The CITY OF CONFUSION is broken down; Every house is shut up so that none may enter.
Isa 24:12  DESOLATION is left in the CITY, And the gate is battered to RUINS.
Isa 24:13  For thus it will be in the midst of the EARTH among the PEOPLES, As the shaking of an olive tree, As the gleanings when the grape harvest is over.
Isa 24:14  They raise their voices, they shout for JOY. They cry out from the WEST concerning the MAJESTY of the LORD.
Isa 24:15  NASB Therefore GLORIFY the LORD in the EAST, The NAME OF THE  LORD, the HOLY ONE of ISRAEL In the coastlands of the SEA/ WEST.
Isa 24:16  From the ENDS of the EARTH we hear songs, "GLORY to the RIGHTEOUS ONE," But I say, "Woe to me! Woe to me!  It was a MYSTERY to ME, a MYSTERY!   For the TREACHEROUS DEALERS have dealt TREACHEROUSLY, And the treacherous dealt very treacherously."  (lamsabible.com)  (Isaiah 42:1-<10-12)

Isa 25:1  O YHVH, THOU art My YAH; I will exalt Thee, I will give thanks to THY NAME; For Thou hast worked WONDERS, PLANS formed long ago, with PERFECT FAITHFULNESS.
Isa 25:2  For Thou hast made a CITY into a HEAP, a FORTIFIED CITY into a RUIN; A palace of strangers is a CITY no more, It will never be rebuilt.
Isa 25:3  Therefore a STRONG PEOPLE will glorify THEE; Cities of ruthless nations will revere THEE. (Revelation 16:12-21 .. WHO is the KING OF THE EAST?)
Isa 25:9  And it shall be said in that day, Lo, this is our Holy One; we have WAITED for Him, and He will SAVE US: this is the LORD; WE have WAITED for Him, WE will be glad and rejoice in His SALVATION.  (Isaiah 40:27-<41:4>-<41:25-42:4>-43:15)
Isaiah 66:6  A REPORT of DESTRUCTION from the CITY, a VOICE like LIGHTNINGS THUNDERS upon the TEMPLES!   The WORD of YAH renders recompense to HIS ENEMIES.   (Note!  The verses thereafter portend a great redemption for ISRAEL!) Isa 66:7  Before she travailed, she brought forth; before her pain came, she delivered a MAN-CHILD!   And a MAN-CHILD became her DELIVERER.
Isa 66:8  WHO hath HEARD such a thing? who hath SEEN such things? Shall the EARTH be made to bring forth in ONE DAY? or shall a NATION be born at ONCE? for as soon as ZION travailed, she brought forth HER CHILDREN.
Isa 59:19  So they will REVERE the NAME OF THE LORD from the WEST And His GLORY from the RISING OF THE SUN (EAST), He will come like a rushing stream, Which the Spirit of the LORD drives.   And when the ENEMY shall come in like a FLOOD, HE shall raise up a STANDARD against him!        Compare Isaiah 44:20-45:6
Isa 59:20  "And a Redeemer will come to Zion, And to those who TURN FROM  TRANSGRESSION in YACOB," declares the LORD.
Isa 59:21  "And as for Me, this is MY COVENANT with THEM," says the LORD: "My Spirit which is upon you, and My words which I have put in your mouth, shall not depart from your mouth, nor from the mouth of your offspring, nor from the mouth of your offspring's offspring," says the LORD, "from NOW and FOREVER."
Many powerful prophecies are declared in the words of the bible.    Yet presence upon pages does not assure everyone will teach or perceive rightly the precious words therein.   The Most High therefore sends prophets to speak what others would not!
MANY ARE THE CONCEPTS OF THE SCRIPTURE WHICH HAVE BEEN OBSCURED FROM THE CONSIDERATION OF THE MASSES BECAUSE OF EFFORTS ON PART OF THE WORLDLY TO MAINTAIN DIVIDE-CONQUER TACTICS WROUGHT OF THE LACK OF KNOWLEDGE SO AS TO PRESERVE CONFUSIONS UNTO THE CONSTANT EXPLOITATION OF THE PEOPLE!   THE MOST HIGH HAS SPOKEN TO ME SAYING, "THE GREATEST WISDOM IS NOT WHAT MEN THINK THEY KNOW, BUT WHAT THEY DO NOT KNOW.   FOR WHAT MEN HAVE SURMISED TO THINK THEY KNOW WHILE NOT GIVING CONSIDERATION TO ALL THINGSS, IS NOT KNOWLEDGE NOR WISDOM AT ALL! (Isaiah 48:1-7>-49:6)   WISDOM UNTO YAH BEGINS IN DISCERNING HOW A WHOLE WORLD HAS IN SO MANY WAYS NEGLECTED THE MUCH EXCEEDINGLY IMPORTANT TRUTH!   FOR NONE OF THE IDEALS WHICH MEN HAVE PROPOSED AS VIABLE WHILE REFUSING TO CONSIDER  ALL THINGS, APPEASES YAH TRUE TO HIS GOSPEL! (Isaiah 40:27-42:4)   When the SON of MAN RETURNS will HE find FAITH in the EARTH that MEN are PREPARED to HEAR DISCIPLINE from HIM? (Luke 17:26-18:9)

THERE IS AS A GREAT TRUTH FORETOLD IN SCRIPTURE THAT THE- LEADERS WOULD NOT SPEAK OF LEST THEIR TREACHEROUS NEGLIGENCE BE EXPOSED!   YET THE FAITHFUL MINISTER OF THE SPIRIT WILL TEACH ALL THINGS!   WHY DID YOUR LEADERS NOT SPEAK TO YOU OF THIS?
MESSIAH WARNED that WE who BELIEVE should be EVER WATCHFUL, WAITING, LOOKING that we may NOT be DECEIVED!   We must be DISCERNING and PREPARED that we may be able to STAND before the SON OF MAN!    For the HOPE of ALL ISRAEL, is the HOPE for BLESSED PEACE in THIS WORLD beyond ALL DEBATES and DOUBT; OBSTACLES and DIVISIONS wrought of a LACK OF KNOWLEDGE!   This HOPE is for the APPEARING of the MESSIAH of TRUTH who reveals the KEYS of LIFE BEYOND ALL the VARIED DISPUTATIONS of MEN!   IF indeed we have  LOVE and HUMILITY unto THIS EXCEEDING HOPE, WE should ALL be SEARCHING the SCRIPTURES for ALL the PROPHETS wrote concerning HOW we may KNOW HIM; even the SURE SIGNS of HIS APPEARING!    For the BLESSING of them who have THIS HOPE of DISCERNING HIS PRESENCE, the pages of this website now exist!   CONFUSION exists against WISDOM because ALL have NOT considered ALL THINGS!     MANY speak of the COMING of MESSIAH that will DELIVER ISRAEL to SPEAK NO LIES.  But KNOW that the ANOINTED ONE who comes to LIBERATE the MINDS, will NOT speak, now will HE COME after DIVERSITUDES of a DEBATE-FILLLED suppositions of a WORLDLY STATUS QUO!    READ PRAYERFULLY MY BROTHERS and SISTERS!   Discern beyond VEILS the WORLDLY devise to blindly MISdirect the MINDS!  Gain VICTORY over ILLUSIONS conceived by the WICKED to HIDE the SAVING REALITY from YOU!   (Zephaniah 3) (Psalms 2)
MY BROTHERS and MY SISTERS!   The GOSPEL is the WORD of the ONE PEACE!   It is WORD PURE from ABOVE! (John 8:23-36)  It is SOVEREIGN WORD ABOVE ALL that CALLS ALL MANKIND unto the WILL of ONE!   It SETS MEN FREE from ALL DIVIDE-CONQUER SCHEMES of PARTIALITIES and POLLUTIONS which RULERS use PREDISPOSING IRREVERENCE,  FORGETTING the WHOLE EARTH is the LORD'S; the FULLNESS THEREOF and THEY that DWELL THEREIN! (Psalms 24, Revelation 11:15-18)  SAVING GOSPEL is the ADMONISHING WORD to the NATIONS that OPENS EYES, RELEASES CAPTIVES, that "DRIES UP RIVERS" and usurps BOUNDARIES that stagnate to CONFUSE HUMAN CONSCIENCE after DAMNING MISRULE of the RULERS!  (Isaiah 14:1-5, 52:5-9)   MESSIAH said the SPIRIT of TRUTH the WORLDLY would NOT RECEIVE!   HE made NO REQUEST for the WORLDLY having NO LOVE for INTEGRITY of HIS HOLY WORD, CAUSE,  and NAME!  Shall WORLDLY LEADERS then PREACH the GOSPEL that SETS MEN FREE?   We are warned, NOT ALL have OBEYED, BELIEVED, HEARD, PREACHED, the GOSPEL!    MANY TIMES in SCRIPTURE the MOST HIGH HIMSELF WARNED!   YOUR LEADERS would NOT TELL YOU THESE VERY IMPORTANT THINGS!   FAITH thus comes by HEARING a WORD from YAH HIMSELF true to HIS PROMISE!! (John 14:15-16, 17:9) (Romans 10:14-17) (Isaiah 40:27-41:4, 41:24-42:4, 48:1-11>- Isa 49:1-6>- 51:1-8, 61:1-5)    HE whose WORD  subdues RULERS to OPEN SHAME, who OPENS the EYES of the BLIND, who RELEASES the CAPTIVES, who BINDS TOGETHER again HIS PEOPLE in TRUTH of the WHOLE HOLY COVENANT, that "DRIES UP the RIVERS" to EXCEED and usurp ALL MEDIOCRITIES of the NATIONS,.. HE is the ANOINTED LIGHT like the RISING SUN who PREACHES the SAVING GOSPEL! (Rev 16:12-21, 22:16, Isaiah 19:1-5, 41:24-28>-Isa 42:1-4—51:8) (Isaiah 44:24-28>- 45:1-6>-Isa 46:8-13, 61:1-5, Isa 40:27- Isa 41:1-4)
WHEN IN THE ONE MOST HIGH WE ARE ONE, THEN WILL WE BE SAVED! (Zephaniah 3:13)

Micah 6:8  HE has SHOWED you, O MAN, what is GOOD and what the LORD REQUIRES of YOU, that YOU shall DO JUSTICE and LOVE what is MERCIFUL REPROOF,  that you be PREPARED to walk after the LORD your god.   Micah 6:9 ¶  The VOICE of the LORD cries upon THE  CITY, preaching DOCTRINE to them who REVERE HIS NAME!  HEAR, O TRIBES!  The man of WISDOM will DISCERN the ROD and WHO has APPOINTED HIM! (Numbers 24:14—43:15, Isa 66:1-<6-15>- Isaiah 26:5-13>- Isaiah 27:10-13, Isaiah 48:1-16>-49:1-6 >-50:10-11>-51:8, Malachi 3:18-4:2>-6, Revelation 6:12-17>- 7:17, Rev 16:12-<19-21, Zephaniah 3:1-5 >--37>-<18:2>-8) (Rev 14:1-5-<10-12)
Zep 3:1  WOE to her that is FILTHILY POLLUTED, to the OPPRESSIVE CITY!   2  She obeyed not the VOICE; she received not CORRECTION; she trusted not in the LORD; she drew not near unto YAH.  3:3  Her PRINCES within her are roaring lions; her JUDGES are evening WOLVES; they gnaw not the bones till the morrow  3:4  Her PROPHETS areTREACHEROUSLy SHALLOW persons: her PRIESTS POLLUTE the SANCTUARY, they have DONE VIOLENCE to the LAW.   3:5  Yet THE LORD of RIGHTEOUSNESS is IN THE MIDST OF THE CITY THEREOF; HE will NOT speak INIQUITY: MORNING by MORNING does HE bring HIS RIGHTEOUS JUDGMENT to LIGHT, in nothing does HE fall short; but the UNRIGHTEOUS, the WICKED, the LAWLESSLY UNJUST know not their UNRIGHTEOUS SHAME.   3:6  Therefore I have CUT-OFF the NATIONS: their TOWERS are DESOLATE; I made their streets waste, that none passes by: their CITIES are DESTROYED, so that there is no man, none inhabitant.  3:7  I said, Surely they will revere ME, that they should receive CORRECT INSTRUCTION; so their DWELLINGS should not be CUT OFF, howsoever I PUNISHED THEM: but they rose early, and CORRUPTED all their doings.  3:8  Therefore WAIT ye upon ME, says the LORD, until .. THE DAY that I RISE UP to the prey: for MY DETERMINATION is to GATHER the NATIONS, that I may ASSEMBLE the KINGDOMS, to pour upon them MY INDIGNATION, even all MY FIERCE ANGER: for ALL the EARTH shall be DEVOURED with the fire of MY JEALOUSY.   3:9  For THEN will I restore the PEOPLE unto a PURE LANGUAGE, that they may ALL CALL in RIGHTEOUSNESS upon the NAME OF THE  LORD, to SERVE HIM with ONE CONSENT!  (Hosea 11:6-9>-12 .. Revelation 7:2, Isa 48:9, 50:1-5>-<10-11>-51:8, 14:1-5) (1John 2:26-3:12)
Num 24:17  I shall see Him, but not now: I shall behold Him, but not nigh: there shall come a STAR out of YACOB, and a SCEPTER shall rise out of ISRAEL, and shall smite the heads of MOAB, and destroy all the children of Sheth. (Isaiah 25:1-3>-10, ch.15-16)
Num 24:18  And Edom shall become His possession, Seir also shall be a possession for their enemies; and ISRAEL shall valiantly GAIN STRENGTH. (Isaiah 40:27-41:4)
Num 24:19  Out of YACOB shall come He that shall take DOMINION, and shall DESTROY him who preserves the wickednesses of THE CITY. (Isaiah 19:18-25)

 To uphold diversely contentious ways of the nations, is to be of the nations! (1Cor 3:1-4)
HEAR O ISRAEL!   The ALMIGHTY, OUR YAH, is NOT DIVIDED, but is ONE!   YAH must be OUR PRAISE!   HE, OUR ONLY WORSHIP!  YAH ALONE!   YAH is LOVE!   There is NO CONTENTIOUSNESS, NO CONFUSION, NO DECEIT, NO ROBBERY resultant of HYPOCRITICAL MISREPRESENTATIONS in what is PERFECT LOVE!   It is REBELLION and CONTINUAL SCHEMES sanctioning PRIDEFUL DENIALS against REALIZATION of the NEED for REPENTANCE unto the WILL of ONE; that has PERPETUATED HATRED against LOVE for the ONENESS that YAH IS ..  FROM BEGINNING! (1Cor 1:10-11, 3:1-4, 2Cor 13:5, Mark 12:29-31)  NO IMPERFECT TESTIMONY TAINTED after DIVISIVE WAYS and ALLEGIANCES of the MANY NATIONS is the ONE SAVING GOSPEL! (Isaiah 40:27-41:4>–43:15) Till WE as BELIEVERS are ONE in the MOST HIGH, beyond ALL SIN ie. SCATTERED ALLEGIANCES to WORLDLY DIFFERENCES, ILLUSIONS and POLLUTIONS, WE are NOT SAVED! (Jeremiah 30:10-11) (John 14:15-17, 17:9) (2Kepa/ Peter 2:20 .. Hebrews 10:26-31) (Jude 1:1-4>-15)    Some are NOW being MOVED by a DEEP DESIRE to know HOW WE who call upon the HOLY ONE shall ALL at last discern as ONE MIND on the SAME PAGE! (Joel 2:32-ch.3) (Isaiah 25:1-3>-10>-26:7-13)   If this KNOWLEDGE you have petitioned for in the night, YOUR PRAYERS NOW are ANSWERED!  Revealed on THESE PAGES is the SECRETED HIDDEN GOSPEL PLAN which ALL NATIONS sought to HIDE; thus keeping ALL INCOMPLETE in BONDAGE, FAR from PERFECTION in ALL RIGHTEOUSNESS; conspiring that FREEING WISDOM never be considered! (Rev 2:6-3:6, Rev 16:12-21)  Subject to whoever DENIES ACCESS to TRUTH, man is CAPTIVE in DARKNESS!   Trust in any LESSER VISION, is CHAOS, a MULTITUDE of SINS ie. CONFUSING DI-VISIONS!  BLESSED are THEY WHO FIND, DISCERN and LOVE THESE PRECIOUS WORDS!
TO ALL YOU BELOVED ONES WHO WOULD LOVE AND SERVE TRUTHFULLY THE ONE MOST HIGH!    FOR HEAVEN'S HOLY NAME'S SAKE!   DISCERN THE SIGNS OF THESE TIMES!    PLEASE!   PLEASE!   BE PARTICULARLY SURE NOT TO MISS READING THE BLESSED INFORMATION IN THE VERY PRECIOUS ARTICLES ON THIS WEBSITE, "FOUR CENTURIES OF GREAT TRIBULATION", "CHURCH ORIGIN", "ENOCH EXCERPT", "THE CITY" and "THE BACCHUS CONNECTION"
WHOEVER will NOT SEEK nor DISCERN the REFERENCE POINT as contained in the SCRIPTURES as the SURE WORD of PROPHECY, is yet instrumental unto MASS BONDAGE, far from TRUE REVERENCE, a CHILD of PRISON-HOUSES erected after the CONFUSIONS of BABYLON'S MANY PRIDEFUL DAMNING ILLVISIONS/ ILLUSIONS!     It is the RESTORATION of the SURE REFERENCE POINT which MEN have OUTLAWED that it has NOT CONSIDERED, that will RESTORE the TRUE REVERENCE and PRAISE of the ONLY SAVIOR! (1Corinthians 3:18-4:5-6, 2Corinthians 4:1-6)  (Isaiah 25:1-3>-10)    HEAR the EXCEEDING TRUTH and LIGHT of the HIDDEN GOSPEL and BE FREE!
FLASH NEWS!  HEAR and SPEAK to ED YMIAH at  www.blogtalkradio.com/edc1      HIDDENGOSPEL REVEALED!

FLASH NEWS!   The profoundly preciously and rare words of admonition found here at www.hiddengospel.com, can now be accessed at   www.hiddenysrael.com   and  also at    www.ysraelight.com    Let ALL the CHILDREN of ABRAHAM, HEAR!
The MOST HIGH has spoken unto me with these words, "You have some VERY IMPORTANT things to do for ME….. You shall tell them things they have done everything they could since the dawn of human FALL, to hide, deny, pervert, silence and destroy."    "Your words which I have given you are precious.   But they are only for the most humble soul."    The WORD OF YAH discerns the thoughts and intents of the heart, even who is a true Jew. (Hebrews 4:12, 1Cor 3:18-4:5, Romans 2:29-3:4, Revelation 19:11-21, John 14:15, 17:9)  …  "They who prefer lawlessness, they who seek after selfish ambitions to exalt themselves preferring that they and others worship the blind and short-sighted  sins of prideful self-righteousness of worldly status quos; .. they will not understand."   "For every lie and/or misplaced value a man upholds is a false god, a curse, a blinder that prevents him from perceiving a greater dimension of Divine truth."      Ed Ymiah
The TRUE PEOPLE of the MOST HIGH YAH are called by ONE SPIRIT unto a COLLECTIVE COMMON CONSCIENCE, ONE COMMON GOAL and VISION!  For this was the NATURE of the EARLY CHURCH as consecrated unto YAH ALONE! (Jude 1:1-4>-15) (1Corinthians 1:10-11)

MESSIAH comes to RESTORE ALL THINGS according to ALL that HE has spoken by the MOUTH of HIS PROPHETS who SERVE HIM FAITHFULLY since this WORLD BEGAN! (Acts 3:18-23, Isaiah 8:9–9:8, Matthew 5:14-21)

MISRULING POWERS IN THIS WORLD HAVE DONE MUCH TO DISREGARD AND TO DISTRACT THE MINDS SO AS NOT TO DISCERN WHAT HAVE BEEN SO MANY VERY IMPORTANT FACETS WHICH REVEAL THE SECRETED PLANS OF OUR ONE TRUE and LIVING SAVIOR and LORD!

FLASH!   ITS "OFFICIAL"!   
HOUSTON NOW THE MOST DIVERSE CITY IN THE WHOLE U.S.!                       http://huffingtonpost.com/2012/03/05/houston-most-diverse_n_1321089.html
HOUSTON NOW THE MOST DIVERSE CITY IN ALL THE WHOLE U.S.!                    http://chron.com/news/houston-texas/article/Houston-region-is-now-the-most-diverse-in-the-U-S-3382354.php
HOUSTON has been named THE FASTING GROWING CITY in the U.S.  Population growth statistics are based upon already extant numbers.   Consider HOUSTON'S already considerable SIZE and POPULATION, and its DRAWING POWER due to recent RECESSION, and its already potent influence being notably well-known due to its title as OIL HUB of the WORLD! To say in light of its already extant fame that HOUSTON has been named recently FIRST and/ or SECOND only to the SMALLER CITY that is AUSTIN, TEXAS which has lesser GLOBAL influence, is yet among the FASTEST GROWING CITIES in the U.S. is a FORMIDABLE STATISTIC indeed!  
http://www.smartplanet.com/blog/smart-takes/houston-named-fastest-growing-city-in-us-heres-the-top-25/17646
http://realestate.msn.com/10-fastest-growing-us-cities-of-2013#4
Surpassing even LOS ANGELES and NEW YORK CITY, HOUSton HARRIS county Texas metroplex as an utmost CENTRAL KEY SHIPPING*PORT CITY is NOW counted the MOST "DIVERSE" CITY in THIS NATION!    Consider!  WHAT do you call the MOST DI-VERSE CITY in the MOST DI-VERSELY INDISCRIMINATE NATION on EARTH!????   Catering to its innate present ETHNIC DIVERSITY wrought resultant of it being the GLOBAL HUB of what is NOW an OIL-BASED COMMERCIAL ECONOMY*, HOUSTON has become subsequently a TREMENDOUS EXPONENT of PRIDE in POLITICAL, SOCIAL and RELIGIOUS and ECONOMIC* DI-VERSITY after INTERNATIONAL IDEALS and MASS OPINIONS!   CONSIDER!   In a PLACE, a CITY such as this is it possible to speak to MANY exponents of the DIVERSE CULTURES and even RELIGIONS of THIS WORLD at ONCE!   Yet BEWARE!  Consider "TYRE" ie. "TYRUS" which prioritized its PALPABILITY unto ALL so many DIVERSITUDES or MEN!  The COMMERCIAL LANGUAGE of POLYTHEIST CANAAN and PHOENICIA catered too to the will and orientations of MANY INTERNATIONAL PRETENSES which CONFUSE!  Such commercially oriented priorities cause many to trust in WEALTH rather than seeking to uphold the ONE ONLY WAY that PURGES US as ONE to ULTIMATELY RESTORE that PURE PERFECT COOPERATIVE RIGHTEOUSNESS which from the BEGINNING is the ONLY PLAN that  .. ABSOLVES! (Isaiah ch 23-<24-27, 25:1-3, Zechariah 9:1-<3-5>-10, AMOS 3, *Revelation 18:1-<11-24, ch.10) (Psalms 2)  The pursuit of RICHES unto forsaking the PURE PERFECT WAY of the ONE, is CONFUSIONS, always resultant unto DAMNING VANITY! (Isaiah 30) 

HOUSTON!  FORBES PREDICTS HOUSTON, NEXT GREAT GLOBAL CITY!
http://www.bizjournals.com/houston/news/2013/09/05/forbes-names-houston-americas-next.html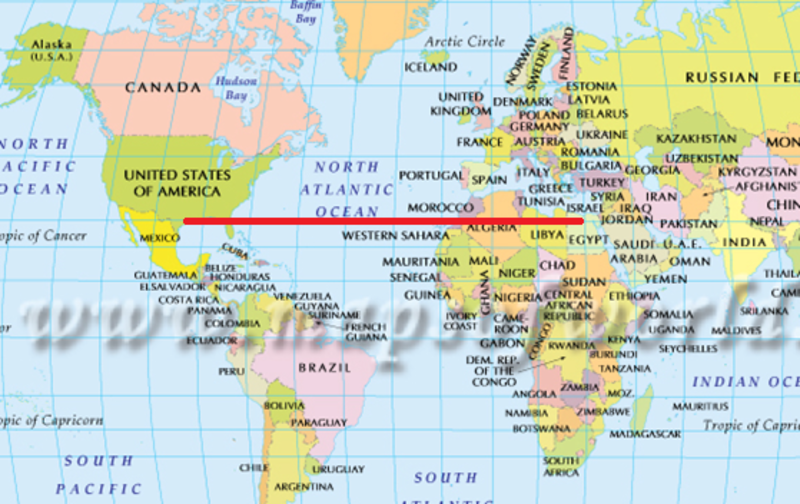 HOUSTON is NOW the MOST DIVERSE CITY in ALL the UNITED STATES! http://huffingtonpost.com/2012/03/05/houston-most-diverse_n_1321089.html
HOUSTON is NOW the MOST DIVERSE CITY in ALL the UNITED STATES!  http//:chron.com/news/houston-texas/article/Houston-region-is-now-the-most-diverse-in-the-U-S-3382354.php
HOUSTON IS CALLED THE OIL & GAS HUB CITY CAPITOL OF THE WORLD!  http://houstonenergyfuture.com/energy-collaborative/
HOUSTON; GLOBAL OIL HUB with the MOST OIL-RELATED BUSINESSES      http://houston.org/economic-development/industry-sectors/energy/petrochemicals.aspx
HOUSTON; LARGEST GLOBAL EXPORTER!!                                   http://globaltrademag.com/?s=top+exporting+cities+in+U.S.
*FLASH!   NEWEST LINK UPDATE!  HOUSTON # 1 CITY ECONOMY IN U.S.! http://houston.culturemap.com/newsdetail/12-01-12-houston-ranked-the-no-1-economy-in-america-the-recession-doesnt-live-here/
Realize however, it is NOT POSSIBLE that any POLYtheist SYSTEM or ANY THING PLURALISTICALLY and INDISCRIMINATELY COMPROMISED to be in any wise WHOLLY LAWFUL and TRUE unto the PERFECT WILL of THE ONE!  (Isaiah 48:22-49:7 .. 57:1-<21) NOTE! Biblically speaking, LAWLESSness is LICENTIOUS departure from a PURE PERFECT HOLY WORD, equating thus to DEVIATION, CONFUSION, HYPOCRITICAL COMPROMISE against DIVINE INTEGRITY, even a BABYLONISH WICKEDNESS!    BREAKING the LAW of YAH to PIECES exalted against the WHOLE, is NOT PEACE, NOT the GOSPEL!  MAN must TRANSCEND the DEBATE and DOUBT wrought of DIVERSITIES to be DELIVERED unto the DIVINE CONSCIENCE that is ABOVE ALL NATIONALIST DECEITS!   THIS is the VICTORY that OVERCOMES every BLINDING SCHEME of this WORLD! (Revelation chapter 14)   To DEFILE a HOLY COVENANT is neither HOLINESS nor is it a COVENANT with the HOLY ONE!    ALLEGIANCE to LESS than ALL the MOST HIGH has decreed wherein MEN have exalted the VANITIES of LESSER CONSCIENCE is NOT PEACE, nor SALVATION but SELF-RIGHTEOUS IDOLATRY!   Indeed!   MAN has  BROKEN what from THE BEGINNING till ETERNITY remains an EVERLASTING COVENANT unto the DIVINE PURPOSE of the ONE CREATOR!   (Zephaniah chapter 3, Isaiah 19:18-25, chs.23>-24-27, 66:1-<6-15, Revelation 18 .. Isaiah 46:8–52:7, 48:22-49:10, 57:1–21, Romans 10:1-3. TRUE FAITH in the REVEALED from ON HIGH EXCEEDING TESTIMONY of the MESSIAH is the END of trust in the MANY ALLEGIANCES to PARTIAL and POLLUTED DOCTRINE which deny BLESSED HOPE of PERFECT AGREEMENT in the HOLY COVENANT GOSPEL of ONE UNDERSTANDING PEACE!)    WHO amidst so much DIVERSELY OPINIONATED CARNAL LICENTIOUSNESS can DISCERN to RIGHTLY PREPARE for the COMING GREAT DAY OF JUDGEMENT which shall REVEAL what is sure REPENTANCE that there be ATONEMENT of SOULS, MINDS and HEARTS unto what is indeed ABSOLUTION unto SALVATION beyond EVERY INDISCRIMINATE WORLDLY  DEVIATION of BLIND CONTENTIOUS CONFUSION? (Psalms 19:7-14) (Jude 1:1-15)
HOUSTON is MOST CULTURALLY DIVERSE CITY in the UNITED STATES! http://huffingtonpost.com/2012/03/05/houston-most-diverse_n_1321089.html
HOUSTON is the ENERGY and GAS HUB CITY CAPITOL of the WORLD! http://houstonenergyfuture.com/energy-collaborative/
HOUSTON BOASTS the COUNTRY'S MOST ENERGY RELATED BUSINESSES! http://houston.org/economic-development/industry-sectors/energy/petrochemicals.aspx
As prophesied, HOUSton, HARRIS County, Texas in the U.S. exists   very much on the same  EAST -WEST LATITUDINAL 29th-31th degree line central to ancient ISRAEL!  (Hosea 11:10-11 .. Isaiah 19:18-25, 24:1–26:13, Micah 5:2-4)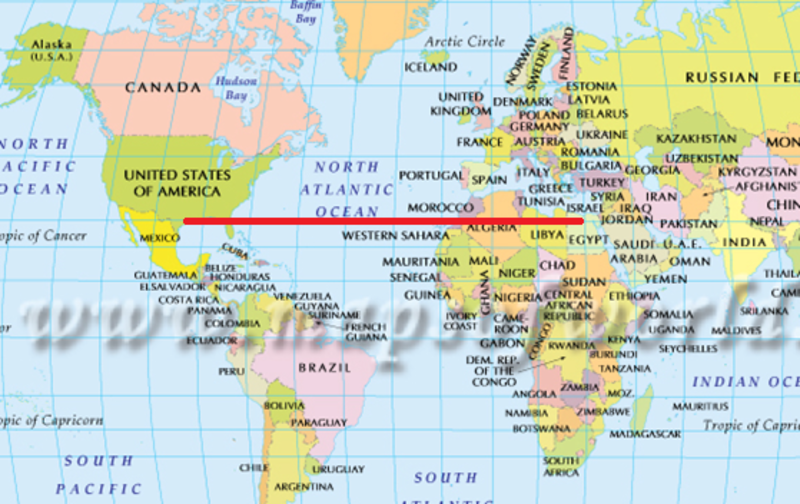 For LACK of a SURE ABSOLUTE POINT of REFERENCE, GREAT is the SELF- RIGHTEOUS PRIDE of the NATIONS!    WHAT shall HUMBLE the INTERNATIONAL PROFANENESS of the NATIONS that at last men shall REVERE and HEAR the TRUTH that gives DUE REVERENCE unto the HOLY NAME? (Exodus 20:7, Leviticus 19:12, Isaiah 48:1-49:6>-22-23)

Isa 24:10  The CITY is DESTROYED: .. every HOUSE is shut up that no man may enter…(Isaiah 29:5-<8-16), 66:1-<6-14) (Revelation 16:12-21, 6:12-7:17)

Isa 24:12  NASB/ NIV/ RSV DESOLATION is left in the CITY,
And the GATE is battered RUINS.
Isa 24:13  For thus it will be in the midst of the EARTH among the PEOPLES, As the SHAKING of an olive tree, As the gleanings when the grape harvest is over.
Isa 24:14  They RAISE their VOICES, they SHOUT for JOY.  They cry out from the WEST concerning the MAJESTY of YAH. (Isaiah 42:10-12)
Isa 24:15  Therefore they will GLORIFY the LORD in the EAST, The NAME OF THE LORD, the HOLY ONE of ISRAELin the COUNTRY of the SEA/WEST*.  
Isa 24:16  From the ENDS of the earth we hear SONGS, "GLORIOUS, a GREAT LIGHT is the RIGHTEOUS ONE!," … (Isaiah 26:7-13, 40:27-41:4>-41:24-42:13, 45:4-6, 59:19-21 .. Malachi 1:11 .. Matthew 12:18, Revelation 22:16, 16:12-21)
NOTE!   The hebrew word for SEA also connotes WEST.     When these passages relate LIGHT and or FIRES (KJV), it is a reference to the RISING SUN in the EAST!   It is also of note that EARLY PEOPLES saw the EAST where the SUN RISES as the way of LIGHT, and the WEST where the SUN SETS, as the WAY of variant DARKNESSES!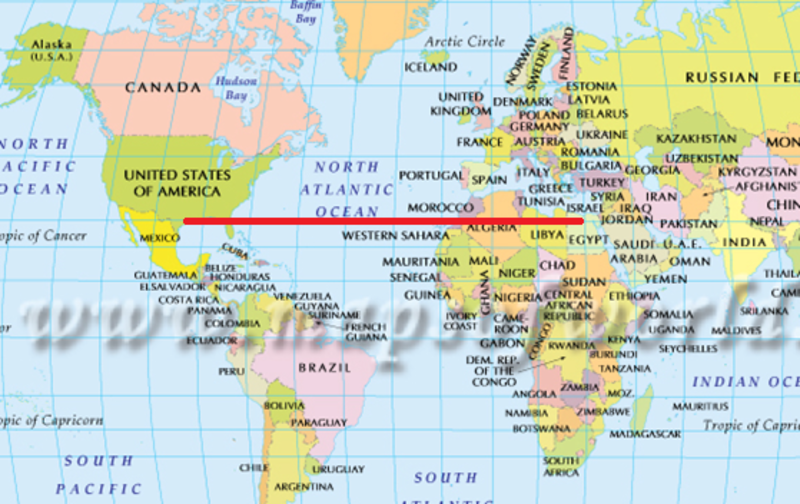 Thus there is another point that must be considered!    This  passage at Matthew 24:27 should actually read, "For as the SUN RISES out of the EAST, and SHINES forth even unto the WEST; so shall also the appearing of the SON OF MAN be!    Compare Isaiah 45:6 and then in these latter days, Isaiah 59:19-21>-62:12.   WHO is this SON of MAN?  WHAT do all the ANCIENT PROPHETS say concerning the DAY of HIS APPEARING? WHO is this RIGHTEOUS UPRIGHT ONE mentioned at Isaiah 24:16 an 26:7 as He is mentioned at Isaiah 40:1–<41:24-42:4 and Matthew 12:18 and Luke 1:78?  For further understanding of this GREAT MYSTERY of the MOST HIGH that largely has been HID from the WESTERN WORD, see the articles on this website, "CHURCH ORIGINS",  "GREAT DAY OF THE LORD 2" and ENOCH EXCERPT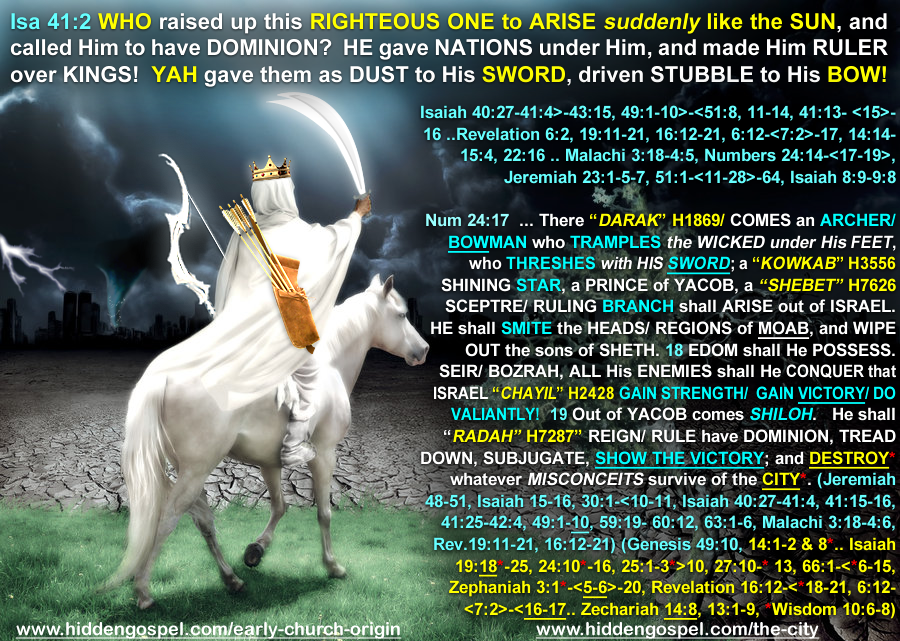 So much has not been discerned among the CHURCHES and NATIONS  for lack of consideration that MATTHEW 24, MARK 13 and LUKE 21:7-36 are as a testimony prophetic CHRONOLOGIES foreseeing epochs and pivotal events over the course of MANY MANY CENTURIES!    There is a REASON why we frequently read repetitively amidst these chapters the words, "Then", "And then", "After those days".   Indeed, I admonish your that MATTHEW  24:1-20 relates events which came to pass within the FIRST THIRTY-FIVE YEARS of the GOSPEL DISPENSATION to the NATIONS!   There is much that the masses have not perceived which is contained in the scripture due to masses having been predisposed to seek scenarios and expectations wrought hasty conclusions which were never initial intent on part of Messiah nor His apostles as were the doctrines of the Early Church!    Were these things better understood, men would far better comprehend not only what manner falsehoods have infiltrated church doctrines that must be rebuked and removed; but also the  truths long neglected and only surface spoken of needs be elaborated upon unto a far greater transcendant heavenly light!   Let us NOT FORGET!   Did you know that some SIXTY MILLION BELIEVERS were MURDERED very soon after began the DISPENSATION of the HOLY GOSPEL?   A GREAT MURDEROUS GLOBAL ATTROCITY was committed in the FIRST FOUR CENTURIES!    Of the SIN of it, a WORLD remains WOUNDED and has NOT been HEALED!    Thus a WHOLE WORLD is even NOW TODAY let co-participant in a GLOBAL SCHEME intent on part of the LAWLESS to SILENCE and FORGET what is the REAL TRUTH of the GOSPEL that EXPOSES ALL UNRIGHTEOUSNESS!   Yet that FORGETFULNESS shall NOT forever HIDE the SINS that remain at the VERY FOUNDATION of the PERVERSITY that has been the SIN of ALL the NATIONS!    There is but ONE HOPE for SALVATION PEACE in this WORLD!    The MOST HIGH is ONE!   Yet has any NATION or RELIGION said that its WAYS are NOT SUFFICIENT to SAVE? (Isaiah 28:1-23)    It is because of an UNRIGHTEOUS PRETENSE that has very long NOW been PERVASIVELY DISREGARDED among ALL the NATIONS, that most have not begun to discern how a WORLD ENTIRE has NEGLECTFULLY not known to SEEK and to AWAIT the PROMISED MESSIANIC EXPECTATION for the RESTORATION of ALL THINGS, has left a WORLD FALLEN from FAITH! (Isaiah 40:27-41:4, Malachi 2:17-3:9)  Trust in the DIVERSE PARTIAL PRECEPTS of MEN has been the SALVATION, the MAKING WHOLE of NO ONE!   The PRIDE of MEN that has preserved LUSTS for MASS CONFUSION must be DESTROYED that ALL MEN in ALL NATIONS might KNOW YAH IS ONE! (2Thessolonians 2:1-<7-12)   A For more information concerning this, prayerful examination to the preciously very insightful article found on this very website.   www.hiddengospel.com/four-centuries-of-tribulation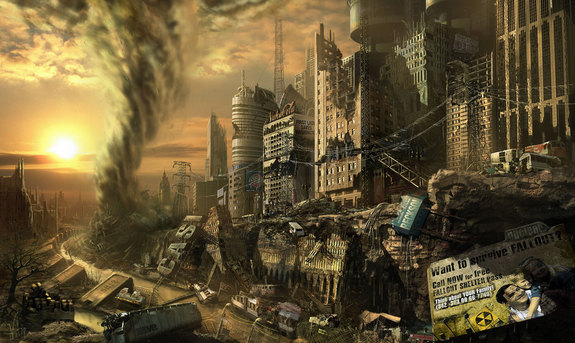 CONSIDER this PRECIOUS ADMONITION of the MESSIAH!
Luke 21:33  Heaven and earth shall pass away: but My words shall not pass away.  34 Take heed to yourselves, lest at any time your hearts be overcharged with indulgence, drunkenness, and cares of this life, and so THAT DAY come upon you unawares.  35  For as a SNARE shall it come on ALL them that dwell on the face of the WHOLE EARTH.  36 WATCH therefore, and PRAY always, that ye be accounted worthy to escape that which shall come to pass, and to stand before the Son of man. (Revelation 2:6-3:6, 16:12-21)
Isaiah 24:23  Then the MOON shall be CONFOUNDED, and the SUN ASHAMED, when the LORD of HOSTS shall REIGN in MOUNT ZION, and in JERUSALEM before HIS SAINTS with EXCEEDING GLORY.
Isa 25:1  O LORD,