THE HIDDEN and LONG FORGOTTEN SECRETS OF THE MORNING STAR!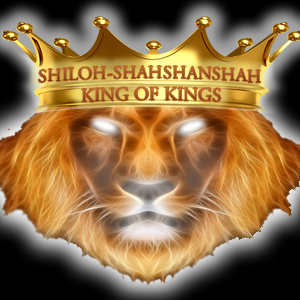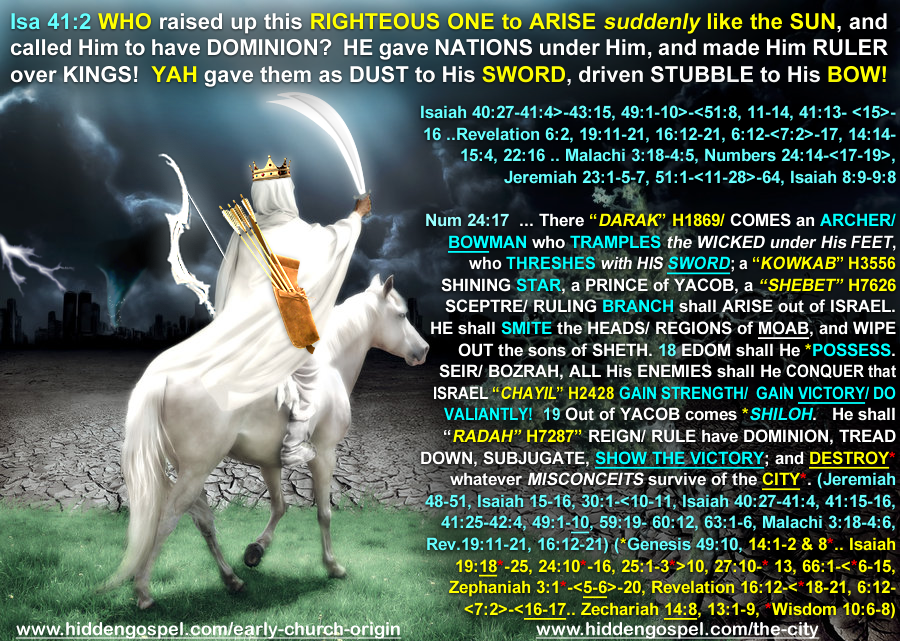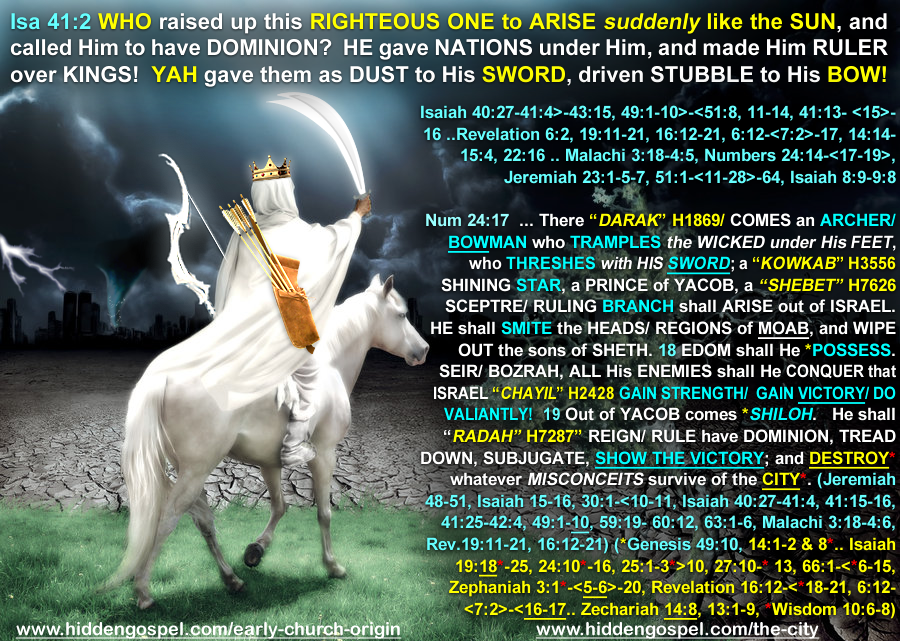 Rev 22:16 "I YEOSHU have sent mine angel to testify unto you THIS TESTIMONY that I COMMAND MUST BE TESTIFIED in ALL the CHURCHES.    I am the ROOT and the OFFSPRING of DAVID, and the TRUE BRIGHT MORNING STAR!" ……… Indeed!    MY WORD is PURE and COMPLETE casts out ALL the DARKNESS and REVEALING the LIGHT this WORLD of FALSE RULERS would OBSCURE!  (Isaiah 8:16-20, Isaiah 40:1-<27-41:4>-<21-42:4>-43:15, 44:20-45:6>-46:13)
LET EVERY PRETENDER BE EXPOSED!   THE CHILDREN OF DARKNESS CAN NEVER TELL THE WHOLE TRUTH!     FOR THE NATURE OF TRUE LIGHT IS THAT IT CASTS OUT ALL DARKNESS!    LET EVERY FALLEN TESTIMONY OF EVERY FALLEN FALSE PROPHET AND HIS LESSER TESTIMONY BE OVERCOME!  LET BABYLON FALL BEFORE A GOSPEL WORD PURE AND COMPLETE! (Isaiah 13-14)

SHALOM MI ACHS and MI ACHOTI!     Hereafter find herein words SO VERY IMPORTANT unto the SALVATION of MANKIND that though this presentation is NOT as I usually would present INFORMATION on this site, I found it imperative to release it NOW!   These are MY PERSONAL NOTES!   Many of the ideas surely can in revealing so much FUNDAMENTAL can be elaborated upon MUCH FURTHER than what is presented here!
These are words for those who are at least somewhat familiar with other articles on this website such as EARLY CHURCH ORIGIN, SECRET CITY PROPHECIES, GOSPEL OF SHILOH, REMEMBER THE PROMISE, and TRIBULATION 70-365AD .. and of course my BTR BLOG at   www.blogtalkradio.com/edy1

I'm in a rush right now.    Things to do.    All that is written hereafter it is possible to offer much greater elaboration.    But NOW is the time to release this message.  It is all to be uploaded to this site momentarily! ….,.
NOTE!   THIS IS A WORK YET IN PROGRESS! ….
=================================================================
Read herein a word-study of wisdom granted unto me for them who are blessed with the gift from above to discern and confirm it! It is a word for the humble soul who would seek truly all the everlasting pure righteousness of the One Most High!    NOT the USUAL WAY I PRESENT ON THIS WEBSITE.   I AM MAKING AVAILABLE TO YOU SOME OF MY PERSONAL NOTES ON THIS TOPIC!   

OUT OF JUDAH, SHILOH COMES LIKE MOSHE .. TO LAY DOWN THE LAW! (Gen.49:10, Isa.40-42-43, Acts 3:18-23, Heb.3-4) (Mal.3:13-4:2) (Ezekiel 20:35-44)

CONSIDER! REVELATION 21:12-21.. Isaiah 48:1-10, Hebrews 3-4 .. YAH WARNED HIS PEOPLE who had NOT YET discerned REVERENCE for HIM, "DON'T DRAW NEAR to the MOUNTAIN lest I BREAK OUT against YOU!" (Exodus 19:12>-20-23)    I know you are coming out of IRREVERENT EGYPT!    But YOU will NOT come NEAR unto ME, MY MOUNTAIN nor into MY KINGDOM UNrefined! .. AGAIN!   (Rev.7:2, Isaiah 30:18, Ezekiel 20, 37?) (Acts 3:18-23 … Genesis 49)  (Hebrews 3-4)   YEOSHU will DECIDE WHO is or is NOT TRUE to COMMUNITY! WHO is a SERVANT of YAH or NOT! (Mal.4:2) Though HE come at a time and a manner the PEOPLE do NOT EXPECT and for which they are UNPREPARED and to be proven FAR FROM WISDOM .. EVEN SO, COME LORD YEOSHU the KURTI!
Job 38:4 Where wast thou when I laid the foundations of the earth? declare, if thou hast understanding.
Job 38:5 Who hath laid the measures thereof, if thou knowest? or who hath stretched the line upon it?
Job 38:6 Whereupon are the foundations thereof fastened? or who laid the corner stone thereof;
Job 38:7 When the MORNING STARS sang together, and all the sons of YAH shouted for joy?
YET WHO IS THE BRIGHT MORNING STAR, the PROMISED DAVIDIC SON MENTIONED at REVELATION 22:16!???
at
Rev 22:12 And, BE WATCHFUL! I come SUDDENLY/ UNEXPECTEDLY; and My REWARD is WITH ME, to give every man according as the THOUGHTS and INTENTS of HIS HEART … shall be.
Rev 22:13 I am Aleph and Tau, the BEGINNING and the END, the First and the Last. (I come to bring to bear ALL that was promised from the Beginning of old! .. Isaiah 41:21-42:4, 45:19-25-<46:8-13)

Rev 22:14 Blessed are they that DO/ PERFECT HIS commandments, that they may have right to the tree of life, and may ENTER in through the gates into the CITY.
Rev 22:20 He which testifies these things says, Surely I come SUDDENLY, SWIFTLY, UNEXPECTANTLY. Amen. EVEN SO, come, Lord Yeshu. (Have more love for what pleases YAH that YOURSELF! For since ALL are FALLEN SHORT of the GLORY, only they who will HUMBLY accept DISCIPLINE have chance!)
Re 22:16 "I, Yeoshu, have sent My angel to testify to you these things that must be testified in all the churches. I am the root and the descendant of David, the TRUE BRIGHT MORNING STAR."
Rev 2:26 And he that overcomes, and keeps MY RIGHTEOUSNESS unto the FULL, to him will I give power of authority over the NATIONS:
Rev 2:27 And he too shall rule them with a ROD OF IRON; as the vessels of a potter shall they be broken to shivers: even as I received this discipline and authority of my FATHER. (Isaiah 30:1-<8-15)
Rev 2:28 And I will give him the MORNING STAR (seal of righteousness)
Rev 2:29 He that has an ear, let him hear what the SPIRIT (teaching ALL THINGS) .. says unto the CHURCHES.

The peoples have had NO RESPECT for HIM who GUARDS the DOORS against VANITY, because according to them EVERYBODY SELLS "VIABLE TICKETS" unto ENTRANCE catering to WHATEVER folk want to THINK and HEAR!
ISAIAH 41:21-42:4 .. THIS VIBRATION that declares the ABSOLUTION of ALL the PROPHETS have spoken concernin SHILOH the KURDI is the ONLY VIBRATION worthy unto CONFIRMATION true to ALL YAH decreed from BEGINNING ETERNAL! All else trusted outside this EXPECTATION is a FALLEN VIBRATION giving sanction to PRIDE after VAIN SELF-RIGHTEOUS DEVIATION/ CONFUSIONS/ WARFARE!

Many say they are in ETERNAL LIGHT GOD-VIBRATION .. but the QUESTION is are you in THIS INVARIANT LIGHT beyond ALL SCHEMING MISREPRESENTATIONS of the NATIONS? (Yacob/James ch.1)   As it is written, "IF THEY DO NOT RECKON ACCORDING TO THIS CONSUMMATE WORD, THE MORNING STAR, the LIGHT of YAH, the CONFIRMATION of ALL the LAW and the PROPHETS, IS NOT IN THEM!" (Isaiah 8:16-20)     NOTE that the WORD for LIGHT at ISAIAH 8:16-9:6, is MORNING STAR, ie. the LIGHT that CASTS OUT ALL the DARKNESS!   The LIGHT of YAH, the SHAHSHANSHAH KING OF KINGS this WORLD of FALSE RULERS would OBSCURE even to HIDE it from the MINDS of MEN!    Can you accept THIS TRUTH relative to ALL that the PROPHETS of LIGHT have said?   The SCRIPTURE warns NOT against TRUE PROPHETS, but against FALSE PROPHETS who teach but NOT according to the FULLNESS of the TESTIMONY! Indeed! FALSE RULERS desire that NONE speak the WHOLE TRUTH! Therefore they HATE the PROPHETS that YAH SENDS!    They HATE the idea that the TRUE PROPHETS come to EXPOSE them who teach FALLEN, FALSE, FOOLISH INCONCLUSIVE TESTIMONY! WHO is the INVARIANT GREAT LIGHT that ENDS WAR, BRINGS PEACE? (Isaiah 8:8-9:8)
ISAIAH 41:21-42:4 .. The RULERS will NOT be able to DECLARE FOUNDATION nor EXPECTATION! Dare men say they who will RUN for COVER be their SAFETY? (Revelation 6:12-<7:2>-17).    However the MESSIAH-SHILOH will bring to bear ALL that was FORETOLD of OLD and even NEW THINGS shall HE declare which YOUR RULERS never TOLD!   ISAIAH 43:18-19, 44:20-45:6, 45:21-22.
Many make "CLAIMS" to be on THIS CONSTANT INITIAL ETERNAL WAVELENGTH VIBRATION of LIGHT. (John 1:1-3)    IF SO, WHY did they KNOW NOTHING of THESE THINGS? Indeed. ALL are subject under the SNARING SCHEMES of ROME, even ALL the NATIONS which have taught LIES so as to HIDE these things! Further. WHY is it that they could NOT VIBRATE FULLY unto THIS? (Isaiah 8:16-20>-9:8)    If folk do not have what CONFIRMED the EARLY CHURCH true to the ANCIENT EXPECTATION, they will NOT be CONFIRMED before the JUDGE!   For the JUDGE is the KURDI-SHILOH the MORNING STAR! (Rev.6:12-<7:2>7:17)

—————————————- N O W! ————————————-
ALL the BOOKS of the LAW and PROPHETS are SEALED CONFIRMED in the RIGHTEOUS APPEARING of YEOSHU as the PROMISED RIGHTEOUS KURTI, the MORNING STAR!   YEOSHU revealed as KURTI is the SEAL, the CONFIRMATION of ALL the LAW and the PROPHETS, the TRUTH which the WHOLE WORLD of FALSE RULERS have sought MISCHIEVOUSLY and DAMNEDLY to DENY!    HE as HEIR unto whom RIGHTEOUSNESS BELONGS PREVAILS beyond WORLDLY OBSTACLES to OPEN the SECRETS SEALED in ALL the BOOKS, even ALL the LAW and THE PROPHETS to CONFIRM ALL RIGHTEOUSNESS; HE is the GIFT-HOPE of HUMANITY for TRUE SALVATION! ONLY they who RECEIVE HIM in HIS TRUE FULL TESTIMONY have HOPE of CONFIRMATION, the SEAL of PURE STABILITY unto DIVINE PROTECTION in the WRATH of GREAT DISTRESS which must COME that the SOLE COVENANT of the KINGDOM of YAH be REVEALED!   In HIS being REVEALED as "OVERCOMER-REMEMBERER" ALL that YAH has SPOKEN is PROVEN!  ALL SCHEMING MISREPRESENTATIVE OBSTACLES of the NATIONS to DENY ALL PEOPLES to DENY the TRUTH of the SHAHSHANSHAH shall be EXPOSED as "SYSTEM FAILURE"! (Isaiah 8:16-20, 25:1-3>-10, 25:1-3>-10, 29:8-16>-32:8, 44:20-45:6>-46:13, 50:1-5, Mat.5:14-24, 2Kepa 1:19-21, Revelation 5-6, Yacob 1, Psalms 2)    BEFORE HIM who MUST PREVAIL, YAH HAS MADE ALL THE CROOKED PLACES STRAIGHT! (Isaiah 44:20-45:6 .. 1Cor.3:18-4:5)

ALL the LAW and PROPHETS PROMISE the EMBODIMENT of the COMFORTER, SHILOH the ANOINTED COUNSELOR, the PRINCE OF PEACE! (Isaiah 46:8-13, Mat.11:2-15, Mark 9:11-12)
HEAR THIS!    NO OTHER TESTIMONY can be the TRUE CONFIRMING SEAL of ALL the LAW and the PROPHETS! For the APPEARING of SHILOH, is the EXPECTATION of the FAITH! To establish a COUNTERFIET RELIGION unto its DIABOLIC THRONES and PULPITS, ROME schemed ABOLISH THIS GREAT EXPECTATION so to IMPRISON a WORLD!
The EXPECTATION of the AWAITED ONE is the PROMPTING of MANKIND in HUMILITY before YAH unto the HOPE of PERFECTION unto SALVATION!
MESSIAH comes NOT to DESTROY or WEAKEN the TRUE LIGHT that is the LAW and the PROPHETS! I come NOT TO WEAKEN, DISHONOR or DESTROY, but to FULLY CONFIRM! (Mat.5:14-24, Isa.8:20, 2Kepa 1:19-20, Rev.22:16, 2:27-29)    The SAVIOR is NOT a FALSE PROPHET, but a FULL PROPHET! Whoever does not have THIS CUMULATIVE LIGHT/ ETERNAL VIBRATION, having not the FAITHFUL EXPECTATION of the MORNING STAR (SHAKAR) .. ALL they KNOW and SEEK is the FALLEN VISION of FALSE REPRESENTATIONS. Trusting in FALSE PROPHETS, FALSE ie. PARTIAL TESTIMONY, THEY KNOW NOT ME in the CONFIRMATION of MY RIGHTEOUSNESS says YAH! (Mat.7:13-21) This one, THE MORNING STAR SEALS both the EARLY and LATTER TESTIMONY! THIS ONE, the MORNING STAR CONFIRMS the LAW and the PROPHETS!   Whether or not men can ACCEPT CONFIRMATION in the MORNING STAR in the FULLNESS of HIS TESTIMONY is the CONFIRMATION as to whether or not one functions with a PURE HEART of RIGHTEOUS INTENT ast the INITIAL VIBRATION of LIGHT found WORTHY to be an ASSET or a DETRIMENTAL OFFENSE against the HOLY COMMUNITY that is the KINGDOM OF YAH!    It determines whether or not one has or has NOT OVECOME the WORLD!    This one's WORD, the MORNING STAR, the SHILOH-KURTI discerns the ORIGIN of the THOUGHTS and INTENTS of EVERY HEART! HE discerns preference ro RIGHTEOUSNESS or UNRIGHTEOUSNESS!    For ALL tho DO NOT SEEK after HIS have PREFERRED the WAY of WORLDLY CONFUSIONS, IRREVERENCE without a POINT of REFERENCE! ISAIAH 41 and ISAIAH 8:20 declares that either man functions at THIS LIGHT VIBRATION to RECEIVE the RIGHTEOUSNESS that is the PROMISE of the MORNING STAR, else yet be counted the CHILDREN of CONTENTIOUS FLESHLY DARKNESS, they shall NOT ENTER the KINGDOM of YAH! HEARE THIS ALL WHO DO NOT DISCERN THE "ANGEL RISING IN THE SUN" WHO DEFERS THE the FOUR ANGELS OF WRATH that the TRUE SERVANTS of YAH may be SEALED! (Malachi 3:18-4:2)
HEAR THIS!    ALL YOU WHO SEEK THE FALSE DOCTRINE OF RAPTURE SO AS TO ESCAPE THE DAYS OF WRATH WHICH WILL MANIFEST KINGDOM YAH!! FOR IN NOT KNOWING THE SECRET CITY PROPHECIES AND IN NOT DISCERNING THE BIBLICALLY SURE TESTIMONY CONCERNING THE ONE CALLED "MORNING STAR" THEY HAVE BELIEVED A LIE!
The ACCEPTANCE of the GOSPEL OF SHILOH-KURTI is an ABSOLUTE REQUIREMENT!    To presume the SAVIOR has NO KNOWLEDGE greater than ALL OTHERS, is to DENY HIM as SAVIOR! That MESSIAH brings what OTHERS could NOT, is HIS AUTHORITY as SAVIOR! WHOEVER thinks OTHERWISE, that one is a DECEIVER against ABSOLUTION!
MEN have believed they could come unto the KINGDOM of YAH after the WILL of OBSTINATE RULERS who being WELL SET-UP, they cannot believe were actually a CURSE! (Malachi 3:13-4:2)

The LEVEL of DARKNESS in IGNORANCE unto CONFUSION this world TRUSTS is SO DEVASTATING, that IF the MOST HIGH does NOT GRACE MAN with HIS HELP, and if MAN is NOT WILLING to HUMBLE RECEIVE DISCIPLINE .. MAN has NOT even a SNOWBALL'S CHANCE in HELL to AWAKEN to TRUTH NECESSARY unto ACCEPTANCE unto COMMUNITY!
THE CITY OF DESTRUCTION is NOT for them who BELIEVE, but to CONVINCE them who DO NOT! (Jude) (Isaiah 19:18-25)    YAH has made and SEALED HIM too with HIS NAME, a VESSEL of the CONSTANCY of YAH, RISHOWN V'ACHARON!    NOTE REV.22:12-21!   Since the FALL, THIS IS ALL ABOUT RESPECT! (Psa.24)
IT  HAS ALWAYS BEEN ABOUT DISCERNING ALL THAT IS WRITTEN IN THE LAW AND THE PROPHETS!    FOR THEY WHO DISCERN TO RECKON ACCORDING TO THE FULLNESS OF ALL THAT IS THE FULLNESS of the HOLY TESTIMONY IN HE WHO IS CALLED, "ROOT AND OFFSPRING OF DAVID AND BRIGHT MORNING STAR", THEY SHALL BE PRESERVED AS THE CHILDREN OF THE LIGHT THAT OVERCOMES ALL THE DARKNESS! (Mat.5:14-24, Isaiah 8:16-20, , 11:1-<10-12, 29:8-16, Rev.5-5, 2:26-29, John 1:1-12) 
I THANK THE MOST HIGH YAH FOR EVERY EAR THAT HE BRINGS NEAR!   UNTO HIS MERCY, BE MIGHT, MAJESTY, SOVEREIGN HONOR and PRAISE ALWAYS!   Hallelu'YAH!
"In that ALL the LAW and the PROPHETS were preached till JOHN", YEOSHU as MORNING STAR is the SEAL OF ALL THE LAW AND THE PROPHETS! (Revelation 2:26-29, 22:16, 7:2, 2Kepa 1:19-21 NASB, Isaiah 29:8-16, 8:16-20, Mat.5:14-24, 11:3-15)
Luke 12:40 "You too, be ready; for the SON OF MAN shall be revealed at an hour that you DO NOT EXPECT."  .. He is the Promised AWAITED ONE who reproves ALL MISrepresentation that RIGHTEOUSNESS be REVEALED! (Malachi 2:16-3:4)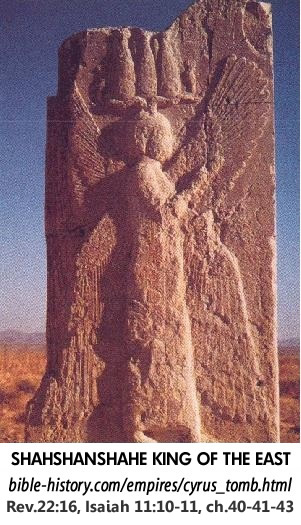 Mat 16:13 When Yeoshu came into the coasts of Caesarea Philippi, He asked His disciples, saying, Whom do MEN say that I the SON OF MAN am?
Mat 16:14 And they said, Some say that thou art John the Baptist: some, Eliyah; and others, Jeremiah, or one of the prophets.
Mat 16:15 He saith unto them, But whom say YE that I am?
Mat 16:16 And Simon Kepa answered and said, Thou art the KURDI, the Son of the living YAH.
Mat 16:17 And Yeosh answered and said unto him, Blessed art thou, Shimon Baryona: for flesh and blood hath not revealed it unto thee, but My Father which is in heaven.
Mat 16:18 And I say also unto thee, That thou art Peter (a pebble), but upon THIS ROCK FOUNDATION which as the GIFT of the FATHER YOU HAVE REALIZED, I will CONFIRM, SEAL, GATHER OUT FROM THIS WORLDLINESS, MY CHURCH; and the gates of hell shall not halt THIS EVENTUALITY of EVERLASTING TRUTH.
Mat 16:19 And I will give unto thee the KEYS of the kingdom of heaven: that whosowever YOU shall bind (in an oath unto MY righteousness) on earth, shall be bound a servant unto heaven: and whatsoever YOU shall loose on earth shall be freed unto heaven.
Mat 16:20 Then charged He His disciples that they should tell no man that he was Yeoshu the KURDI .. ie. the PROMISED RIGHTEOUS ONE likened to the SUDDEN and UNEXPECTED RISING of the MORNING STAR!  (Isaiah 40:1-<27-41:4>-43:15)
CONSENSUS!    WORDS TO CONSIDER!
NOTE!   Consider the SCENARIO related at REVELATION 6:12 subsequent what is esplained concerning the SEVEN SEALS in the article on this website, "GREAT TRIBULATION 70-365AD."   SUBSEQUENT the FALL of :THE CITY:, ONLY they who are "ABLE TO STAND"; able to ACCEPT the SUDDEN TESTIMONY of the "KING OF THE EAST" ie. "HE FOR WHOM YOU ARE WAITING", the "LORD WHOM YE SEEK" before whom the KINGS OF THE EARTH shall be PUT TO SHAME .. OVERCOME the CONSPIRACIES of the KINGS / MARKS OF THE BEASTS! (Isaiah 25:1-3>-10, 24:1-<10-16>-25:10, 26:7-13, 27:9-12)   For due to the RULING CONSPIRATORS who MURDERED MILLIONS to SILENCE THIS TRUTH, nearly a WORLD ENTIRE has neither discerned the SECRET CITY PROPHECIES, nor prepared for the GREAT FAITH of the SAINTS who AWAIT the EXPECTED ONE! (Revelation ch.13-14)    Consider! The ENVIRON unto whence the GOSPEL FIRST went forth had long been under ALREADY EXTANT ACTIVE WESTERN POLYTHEIST  CONTROLS, BLINDING in its CONSTRAINTS and  intents, NOT discerning its SIN.   Its DEFILINGLY INTRUSIVE POLYTHIEST NATURE was therefore inately FAITHLESS SIN;  DELIBERATE in its  HATRED against THE ONE BLESSED STANDARD of the MOST HIGH YAH!  (2Thessolonians 2:1-<7-12, Colossians 2:1-<8>-16)  (Isaiah 59:8-<19-21>-61:12)
Because of the COLLABORATE MURDEROUS CONSPIRACIES of WESTERN RULERS, a HYPOCRITICALLY PARTIAL, DOUBLE-MINDED, PERVERSELY STAGNATING COUNTEFIET FAITH that was NEVER the GOSPEL, has gone forth to SUBJUGATE ALL the WORLD under MASS DECEPTION!   Neither the CHURCHES nor STATE has RIGHTLY DISCERNED the MESSIAH as HE IS as known and revealed by the TRUE PROPHETS and APOSTLES unto TRUE SALVATION! It is a FALSE MESSIAH, a FALSE FAITH that a WHOLE WORLD has TRUSTED, wholly unprepared for and despising the ABSOLUTION so very NECESSARY unto the REDEMPTIVE PURPOSE for which MESSIAH and the HOLY SPIRIT were sent to this earth from ABOVE! PREDISPOSED to trust NO MORE than the LIE, a WHOLE WORLD has been FAR FROM SALVATION for MANY GENERATIONS! WHEN AGAIN the SAVIOR shall be REVEALED, WHO shall BELIEVE HIS REPORT? (Rev.6:1-<12-<7:2>-7:17, 16:12-21, Mal.2:16-3:4, 3:18-4:2.-6, Isa.40:1-<27-41:4>-<21-42:4>-43:15, 28:10-22, 52:15-53:1)
POWERFUL REASONING is behind REVELATION 22:16, ZECHARIAH 3:8, 6:12, LUKE 1:78, 2KEPA 1:1-<19-21 & CHAPTER 3! Many discern MESSIAH YESHUA as the promised DAVIDIC BRANCH, but how it is that FEW discern WHY He is also the BRIGHT MORNING STAR! WHOEVER does NOT DISCERN THIS PROPHECY is yet sedatedly POLYTHEIST, NOT discerning his SINS against the ABSOLUTE STANDARD of the MOST HIGH! CONSIDER WHY at FIRST, ONLY 144,000 who HEARING, will be CONFIRMED STEADFASTLY SEALED to the FAITH! Having NOT overcome WORLDLY OBSTACLES preventing REMEMBRANCE of the ANCIENT FAITH, humanity remains ACCURSED without a SHEPHERD-SAVIOR, trusting a PRETENDER, a FALSE MESSIAH, believing a FALSE GOSPEL, LOVING what is a STRONG DAMING DELUSION, the CONSPIRACIES that are the MARKS of the UNREASONING BEAST-NATIONS! ONLY in discerning YESHU as THE KURTI true to ALL the PROPHETS, is a soul SEALED unto REDEMPTION, not CUT-OFF! (Acts 3:18-23)
HIGHEST VIBRATIONS!
BLESSED are they who will AWAKE to THIS HIGH FREQUENCY LIGHT VIBRATION of PUREST PERFECT INVARIANT TRUTH empowering the SOUL to SEE beyond the VEILS of ALL and EVERY LESSER CONSCIENCE of BLINDING VIBRATIONS; the MISREPRESENTATIVE and DECEPTIVE WORLDLY DARKNESS ie. LIES!    BLESSED are they who YEARNING and DISCERNING a GREATER ABSOLUTION beyond the CONFUSIONS .. will SEE to BELIEVE this IS the TRUE EXCEEDING LIGHT!    For EVERY LESSER VIBRATION is DE-CEPTION to HALT RAISING of HUMAN CONSCIENCE! THIS IMPERATIVE WORD OF TRUTH is EXCEEDING FAITH beyond ALL DEBATE and DOUBT, that OVERCOMES the WORLD!  KNOW that EVERY PARTIAL and POLLUTED TESTIMONY is yet a DAMNING ONE FAR from PERFECT SALVATION in the GOSPEL!    For NOT to DISCERN the TRUE SHILOH-KURDI SHAHSHANSHAH-KING OF KINGS is DAMNING BONDAGE to EVERY BLINDING CONTENTIOUS SCHEME of the RULERS!   AWAKEN MY PEOPLE beyond every MISALLEGIANCE that has been the SNARE set by FALSE KINGS and the FALLEN FALSE FOOLISH, FLESHLY DE-CEPTIVE DEBATIVE aned DOUBT-FILLED DOUBLE-MINDED DIABOLICAL, DEVILISH TESTIMONY of FALSE PROPHETS who NEVER seek to DECLARE ALL that is the PURE PERFECT SAVING COVENANT WILL of YAH!   For THIS is the INVARIANT LIGHT VIBRATION that is FROM the BEGINNING ETERNAL that brings ALL THINGS of OLD to REMEMBRANCE: even ALL THINGS unto PERFECT ACCORD unto PERFECT and EVERLASTING PEACE!   This is the LONG-FORGOTTEN and NOW REFOUND LIGHT of the SAVING and EVERLASTING SPIRIT!  (Isaiah 8:16-20, John 1:1-3>-12, 14:15-17>-<26-27, 17:9, Yacob 1, 1John 5) (Psalms 2)
Man having seen for ages the ONLY the LESSER VIBRATIONS of CONFUSION and WORLDLY CONTENTIONS, has been bewitched to presume what is yet only flickering FLESHLY DIVERSELY PROVOCATIVE DARKNESS as if the EXCEEDING LIGHT!  (Isaiah 8:16-20>-9:8, 50:10-11, Yacob 1:1-9>-1:17)   The mere reading or hearing of a PRINTED WORD is NOT ENOUGH!    For MAN after the power of his FLESH does NOT YET GRASP at the FULL VIBRATIONAL LEVEL necessary to in hearing a WORD, be in all the height, depth and breadth of its understanding, TRUE! (John 16:7-<12>-25, 14:15-27, 17:9, Yacob/James 1:1-8>-17, Acts 1:1-6)   Seek after ALL that is DIVINE WILL that indeed you may be BORN AGAIN!
I APPRECIATE YOUR SUPPORT THIS MINISTRY!    HOW MUCH MORE PRECIOUS THAN ALL ELSE IT THAT WHICH REVEALS RATHER THAN HIDES SAVING TRUTH!
I THANK THE MOST HIGH YAH FOR EVERY EAR THAT HE BRINGS NEAR!   UNTO HIS MERCY, BE MIGHT, MAJESTY, SOVEREIGN HONOR and PRAISE ALWAYS!
Hallelu'YAH!